March, 11 2006 - John C. Lincoln Health Foundation Guild's "37th Night of Gold Ball"
What: An Evening at Moulin Rouge
Where: Westin Kierland Resort and Spa
When: March 11, 2006
Time: 6:00 PM
Ticket Prices: Beginning at $500 per couple
Beneficiary: John C. Lincoln Health Foundation
Gala Chairperson(s): Heather Tindall, Vice-chair Linda M. Surdakowski
Committee Members: Beatrice Olivier, Hannah Glouberman, Lisa Bruns, Marcia Robinson, Jean Marley, Gail Traister, Barbara Hansen, Gale Golden, Pat Maas, Carole Schmieder, DeeDee Friedlander, Sandi York, Jody Chandler, Margery Simchak
Entertainment: Krista Goodsitt and the can can line of dancers
Music: Affinity
Sponsors: The Village of Sin BlueCross BlueShield of Arizona, Delta Dental Plan of Arizona, John C. Lincoln Deer Valley Hospital/Medical Staff, John C. Lincoln North Mountain Hospital/Medical Staff, Medical Diagnostic Imaging Group, Ltd., Wells Fargo Bank/Professional Banking Services Club Moulin Rouge Kitchell Contractors, Inc & Orcutt/Winslow Partnership AIA The Can Can Ensemble Real Estate Services, LLC, Southwest Ambulance, TriWest Healthcare Alliance Toulouse Tonight Club Affiliated Hospitalists, PLC, Associated Gastroenterologists, Ltd., Associates in Radiation Oncology, PC, Dan & Paula Coleman, FTI Consulting, Inc., John. C. Lincoln Network Operations Council, Johnson Bank, Mr. & Mrs. Bruce C. Lincoln, Joan & David C. Lincoln, Mariscal, Weeks, McIntyre & Friedlander PA, Marlor Homes, NWQ Investment Management Co. LLC, Mr. Gregory H. Paulin & Mrs. Camille Lincoln Paulin, Standard Pacific Homes
Auctioneer: Steve Passo
Quote of the evening: "It's so exciting to join in and be a part of the tradition of the Night of Gold Ball, helping to keep building, and passing it on to another generation, because the cause is still needed," said co-chair Heather Tindall.
Menu: FIRST COURSE: Chilled Filet of Salmon with Chambertin Sauce SECOND COURSE: Cream of Mushroom Soup Topped with Puffed Pastry ENTREE Filet of Beef with Lobster Newberg, Almond Potatoes, Asparagus, Baby Carrots and Golden Beets DESSERT Frozen Gran Marnier Souffle
Attendance: 650
Attire: Black-tie
Special Thanks: Tindall Independent Medical Evaluations, Barb Hansen, Brad & Lisa Bruns and the Bruns Bunch, Renee E. Tindall, Allie M. Tinall, Brandon Bunger & Bunger Steel
Information: Office 602-870-6306
Decor/Rental Company: Lisa Bruns
Blacktie Photos by: www.tinacelle.com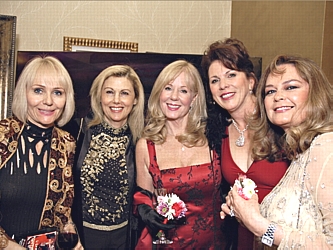 Ingrid Spelts, Bella Ostrovsky, Chris Freeman, Heather Tindall (co-chair) and Yolanda Baker
View all photos
John C. Lincoln Health Foundation Guild's 37th Night of Gold Ball Ball guests arrived for An Evening at Moulin Rouge, their 37th Annual Night of Gold Ball, at the Westin Kierland Resort, for an opulent excursion to Paris. Festivities began at 5:30 p.m. with a private V.I.P. Red Carpet Reception. Activities began at 6:30 p.m. with cocktails and a silent auction, followed by an elegant evening of dining and dancing to the music of Affinity. "We always try to create a special atmosphere for our ball, but this year the committee outdid itself," said 2006 Night of Gold Ball chairman Heather M. Tindall, wife of John C. Lincoln North Mountain Hospital orthopaedic surgeon Francis K. Tindall, MD. Among the live auction items offered were: "End Game II" by Victor Ostrovsky, a limited edition giclee, a mixed media painting by Bella Ostrovsky--both of Ostrovsky Fine Art Gallery, a one week stay in Belize and a tiny little pocket Yorkie puppy (named JC). You could hear the ooohs and aaahs when the bidding war began for the pocket Yorkie. It was creative work of the auctioneer, who managed to sell the dog twice...one to a serious bidder and the second one to cardiologist Frank Surdakowski. It was clear that his wife (and co-chair) Linda was already deeply attached to this puppy. Sherri Kelly and her husband Troy bred their female AKC Registered Golden Retriever and donated the adorable puppy (named Christmas) for the silent auction. Al Molina, of Molina Fine Jewelers, created a generous new tradition of honoring each Ball chairperson, dating back to the first Ball in 1969, with a Molina signature watch--representing the gift of time in serving others. For 37 years, all proceeds from the Night of Gold Ball have gone to benefit Guild GOLD (Giving Others the Lincoln Difference) which supports a wide array of John C. Lincoln's health and social services including support for the Desert Mission Food Bank, Children's Dental Clinic, Marley House family counseling and case management and Adult Day Health Care as well as medical equipment for both John C. Lincoln Hospitals. The Guild GOLD donations ensure delivery of medical and community services which might not otherwise be available to those in need. For more information, please contact the John C. Lincoln Health Foundation at (602) 870-6306.
See More Past Events