May, 05 2006 - Gabriel's Angels "One Child at a Time Luncheon"
What: Fundraising luncheon to support Gabriel's Angels pet therapy program for abused and neglected children
Where: Phoenix Zoo - Stone House Pavilion
When: May 5, 2006
Time: 11:30 AM
Ticket Prices: Free. Reservations required.
EMCEE: Kenny Miller (longtime supporter of Gabriel's Angels)
Founders: Pam Gaber
Executive Director: Pam Gaber
Welcome: Kenny Miller
Speaker: Pam Gaber, Milon Pitts, Eileen Yurish, David Bridger
Sponsors: The Mortgage People, Casino Arizona, ivo, livinginscottsdaleaz.com
Quote of the evening: "It breaks my heart that there are 25,000 kids who need us and we can only serve 15,000," said Pam Gaber, executive director.
Attendance: 300
Special Thanks: Becky DeVoe (Invitation and Program Design); 522 and Hummingbird Productions, Inc. (Promotional Image); Carrie Leary/Schuster Printing (Printing); Jennifer Douglass (Photography)
Information: Pam Gaber 480-460-5333
Board of Directors: Steve Dunn (Chair); Carrie Leary (Vice Chair); Michael Gaber (Treasurer); Lisa Depies (Secretary); Steve Depies, Pam Gaber, Loretta Love Huff, Dayna Mueller, Sue Shipman, Leslie Sonnenklar, Michele Swinick, Nancy Yeamans, Ph.D.
Blacktie Photos by: Jonathan Fearrington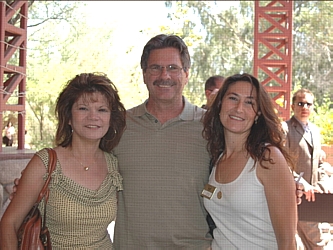 Linda Pepe, Louis Pepe, Carrie Leary (board member)
View all photos
Gabriel's Angels "One Child at a Time Luncheon" By Myra Richman
Gabriel's Angels recently completed its fifth year of providing pet therapy services to abused and at-risk youth throught the Valley. They showcased their new video at a luncheon held at the Phoenix Zoo May 5th. After mingling outside on the terrace of the Stone House Pavilion, the luncheon began with a welcome from Kenny Miller, a long time supporter of the organization.
Two very appreciative young men spoke about their interaction with their dogs, and how they learned morals and values from these loving pets. One thanked his dog for being his best friend. The video production told about success stories and showed abused and neglected children at play with Gabriel and other pets....brushing their dog's teeth and listening to their heartbeat...teaching responsibility and trust.
Pam Gaber thanked her 30 generous table hosts and compared stories of a nurtured child to a child stuck in the cycle of violence. Last year Gabriel's Angels served 15,000 Valley kids. "As we build a national model, Gabriel's Angels is the only organization in the US using a pet therapy delivery model focusing on developing positive behaviors," said Gaber. "We started by accident, but continue with unbridled purpose." Milon Pitts, Client Service Director of Homeward Bound spoke about the help they've been lucky to receive for their kids. Eileen Yurish spoke about why she volunteers and David Bridger,
Executive Director of Pappas Schools asked for support from the guests (there's nothing like a British accent). Gabriel's Angels' Mission: To deliver healing pet therapy to abused, neglected and at-risk children, nurturing their ability to love and trust, thereby freeing them from the cycle of violence. For more information, visit www.petshelpingkids.org or call 480-460-5333.
See More Past Events