November, 03 2007 - Old Songs for New Song Swings & Rocks
What: The Righteous Brothers, The Rolling Stones, Gladys Knight and the Pips, Grand Funk Railroad, The Beatles, The Temptations, The Dave Clark Five, Creedence Clearwater Revival
Where: Arizona Biltmore Resort & Spa
When: November 3, 2007
Time: 6:00 PM
Ticket Prices: $175.00 per person
Beneficiary: New Song Center for Grieving Children & Those Who Love Them
Host(s): New Song Center for Grieving Children
Master of Ceremonies: Bill Mustard
EMCEE: Kari Lake
Co-Chair(s): Jacque Wing, Rey Graf, Judy Pearson
Executive Director: Lisa Schmitt
President(s): Phil Goldberg (board president)
Staff: Lisa E. Schmitt, KT Thompson, Lou Savenelli, Candy Fredericks, Dee Dee Kaplan, Kate Kendig, RN, Gary Anderson
Introductions: Kari Lake, Fox10 News Anchor
Invocation: Rev. Dr. G. Wooden Garvin, Senior Pastor, Valley Presbyterian Church
Welcome: Phil Goldberg
Music: The classic rock sounds of Furious George!
Of note: 2007 Ray Lindy Award Presentation
Sponsors: Schmitt Jewelers, Scottsdale Healthcare, Keats, Connelly & Associates, Inc., HPC & PLLC, Arizona Foothills, KFNX 1100, Wells Fargo, Arizona Business Forms, Inc.
Auctioneer: Gil Gifford
Menu: SALAD: Heart of Bibb Lettuce & Red Endive Salad w Candied Walnuts, Cambazola Crostini Port Wine Syrup & Pear Compound w Roasted Pear Vinaigrette ENTREE: Balsamic Citrus Glazed Chicken Breast, Rosemary Mushroom Polenta, Provencale Vegetables, Merlot Reduction; DESSERT: Triple Chocolate & Chambord Mousse Dome w Wild Berry Coulis & Chantilly Cream or Strawberry & Mascarpone Mousse Torte w Grand Marnier Macerated Strawberries
Attendance: 250
Attire: Black Tie Preferred
Special Thanks: Kathy Schmidt for hand crafting individual chocolates for all guests
Information: Judy Pearson 480-951-8985
Board of Directors: Phil Goldberg (president), Dale Walters, CPA (vice president), Judy Pearson (secretary), Don Graf (treasurer), Shawn Cunningham, R.C. Eisenach, Richard B. Johnson, Judith L. Kling, SPHR, Gabrielle Lawrence, Ph.D, Paul Moore, Linda Nofer, Maria Pellegrino Rivera, Robin Potter, PsyD, Anela Rocha, Kay Sperduti, John Vack
Blacktie Photos by: Jaimee Anderson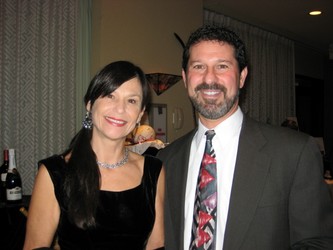 Christine Puglisi, Phil Goldberg (board president)
View all photos
"Old Songs for New Song" Swings and Rocks at 12th Annual Fundraiser
By Myra Richman
New Song Center for Grieving Children and Those Who Love Them hosted its 12th annual fundraising gala, "Old Songs for New Song," on Saturday, November 3rd at The Arizona Biltmore Resort and Spa.
Do you remember where you were when you heard songs from The Righteous Brothers, the Rolling Stones, Gladys Knight and the Pips and the Eagles? Guests came and relived many memories from their past, and it didn't take long for the dance floor to fill up. It wasn't easy to stand still.
The gala included a fabulous silent auction, guests enjoyed dinner and live auction and danced the night away to classic roll-and-roll by local band, Furious George. Live auction items included: A Weekend in the Windy City; A Lobster Feast For Ten; A Fender American Stratocaster Guitar; Eight Clubhouse Seats for the Arizona Diamondbacks; and An Original Peter Van Dusen Oil Painting.
"We depend on our annual gala to raise the majority of our operating budget which allows us to provide a safe place for children to grieve after they experience the death of a loved one," said Lisa Schmitt, Executive Director, New Song Center. "We were excited to see some new faces from the community who want to help our vital cause."
New Song Center for Grieving Children and Those Who Love Them provides a support group program for grieving children, youth, young adults and their families following the death of a loved one. New Song Center also provides comprehensive grief education for its volunteers, the community and professionals. It is the vision of New Song Center to be a nationally recognized model grief support and training program, with the purpose of restoring hope to children and those who love them. The organization operates solely on grants and donations from individual supporters.
For more information on New Song Center or how you can help, call 480-951-8985 or visit www.thenewsongcenter.org.
See More Past Events