November, 10 2007 - WellCare Foundation Black Tie Bowling Ball
What: The 5th Annual Black Tie Bowling Ball
Where: AMF Squaw Peak Lanes
When: November 10, 2007
Time: 6:30 PM
Ticket Prices: Lane Sponsorships
Carnivale - $3,200
Rio de Janeiro - $2,400
French Quarter - $1,600
Venice - $800
Individual tickets - $125 per quest
Beneficiary: WellCare Foundation
EMCEE: Candy Lesher
Founders: & President - Marge Ebeling
President(s): Claire Knapp (president of the board)
Welcome: Candy Lesher
Speaker: Marge Ebeling (executive director)
Catering: Atlasta Catering
Music: ShowTime Jazz Trio
Attendance: 250 guests
Attire: Black Tie Preferred
Special Thanks: Candy Lesher (emcee), Make An Impression (invitations), Heather Bednorz (ad & flyer design), Lori Stuart (balloon art), Metropolitan Arts Students (masks), ShowTime Jazz Trio, McCay Photography, Frontdoors, Atlasta Catering, AMF Squaw Peak Lanes, Michael & Khristen Vanderwey family
Information: CJ Hersch 602-803-4775
Steering Committee: Bev Barnes, Marge Elebling, Dennis Fernandez, CJ Hersch, Cindy Hoard, Kaye King, Zandra King, Debbie Krasne, Debbie Kubista, Diane McLaughlin, Annie Sandweg
Blacktie Photos by: Jaimee Anderson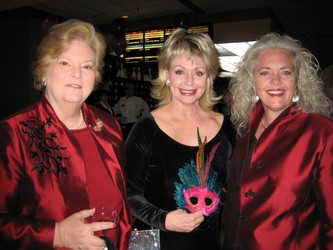 Claire Knapp, Dana Campbell Saylor, Annie Loyd
View all photos
WellCare Foundation Features Black Tie Bowling Ball
By Myra Richman
The WellCare Foundation helds its 5th annual Black Tie Bowling Ball on November 10, 2007 at the AMF Squaw Peak Lanes in Phoenix to benefit the WellCare Foundation which provides free integrated healthcare to single working mothers and their children in need.
This year's theme was International Mardi Gras and featured gourmet fare, jazz, a silent auction, and a beautiful diamond jewelry raffle. Bowling shoes were provided.
Being greeted with champagne and hors d'oeuvres, 250 guests had a chance to buy raffle tickets and bid on many interesting silent auction items, while also viewing beautiful colorful masks designed by students at Metropolitan Arts. A delicious dinner buffet was served by Atlasta Catering.
When emcee Candy Lesher announced the bowling competition was about to begin, women in beautiful cocktail attire suddenly uttered a sigh of relief to be able to step out of their stilletos and into their less glamorous bowling shoes (men should only know what we go through). Gowns were flowing down the lanes as strikes and spares were recorded.
Since 1999, The WellCare Foundation has helped single, working mothers and their children get healthy and stay healthy by providing the highest level of care possible at no cost to those they serve. Their integrated and comprehensive approach to health care heals the whole person and provides much-needed physical, mental and emotional support. With a network of licensed practitioners from all aspects of care, including conventional, complementary and alternative medicine, they can meet the unique needs of each mother and child they serve. As they fill the most basic needs of these women and their children, they can improve their self-sufficiency and help them succeed in life.
For more information, visit www.wellcarefoundation.org.

See More Past Events