April, 07 2008 - Careers through Culinary Arts Heavy Medal Culinary Challenge
What: Careers through Culinary Arts Program (C-CAP) presents the FIRST culinary challenge between Arizona's Iron Chef America winners - Chef Beau MacMillan and Chef Mark Tarbell.
Where: elements at the Sanctuary
When: April 7, 2008
Time: 6:30 PM
Ticket Prices: General Admission: $175.00
Copper Sponsorship: $10,000
Cattle Sponsorship: $7,500
Citrus Sponsorship: $5,000
Cotton Sponsorship: $2,500
Climate Sponsorship: $1,000
Beneficiary: Careers through Culinary Arts Program
EMCEE: Tara Hitchcock, Channel 3
Committee Members: Sharon Levinson (chair), Jill Smith, Gaye Ingram, Barbara Colleary, Ann McGrath
Entertainment: Chef Beau MacMillan vs Chef Mark Tarbell
Of note: "The view"
Sponsors: Les Gourmettes Cooking School, Sleep America, The Sanctuary Resort at Camelback Mountain, SubZero/Wolf, Taneko Japanese Tavern, Tarbell's
Menu: APPETIZERS: Mini Croque Monsiers, Tapanade Crostini w Heirloom Tomato Relish, Mini Tomato-Mozzarella Paninis, Smoked Rock Shrimp & Salsa Verde on Red Corn Tortilla Rounds, Coppola Sofia Blanc de Blancs; FIRST COURSE: Fresh Mozzarella w Italian Honey, Macro Arugula & Arizona Dates, J Lohr Arroyo Vista Chardonnay; ENTREE: Braised Beef Short Ribs, Salisfy Fondue, Organic Spinach & Blueberry Garlic Glaze, J Lohr Hilltop Cabernet; DESSERT: Liquid Center Chocolate Torte, Milk Chocolate Cream & Hazelnut Nuggetine, St. Barthomene Zinfandel Port
Attendance: 150
Attire: Business Casual
Special Thanks: Anne Ballman, Lisa Balzotti, MaryLynne Christman, Linda Hopkins, Gary Johnson, Nan Kohout, Barbara McCreary, Margaret McGuire (Fiji water), C-CAP Alumni & Students
Information: Sharon Levinson 623.594.0117
Blacktie Photos by: Jaimee Anderson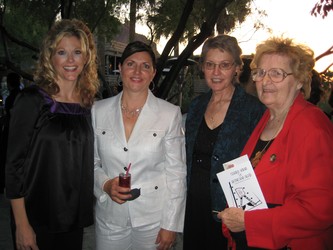 Tara Hitchcock (Master of Ceremonies), Jill Smith (Executive Director C-CAP AZ), Sharon Levinson (Benefit Chair), Barbara Colleary (Retired Exec. Director C-CAP AZ)
View all photos
Careers through Culinary Arts Heavy Medal Culinary Challenge
By Myra Richman
On Monday, April 7, 2008, Chef Beau MacMillan and Chef Mark Tarbell took to their skillets to be matched in Arizona's first, exclusive Iron Chef America Ultimate Competition--a culinary competition to benefit Arizona's Careers through Culinary Arts (C-CAP).
One of the more elegant food fights of our time, elements at The Sanctuary Resort provided the breathtaking view, beginning on the patio with appetizers and sparkling wine. Celebrities were announced, chefs were introduced and the competition began.
Deciding which chef would win the Heavy Medal title were judges: AZ Cardinal Larry Fitzgerald, Debbie Gaby of Sleep America and Alice Cooper. The chefs had spent the last few weeks getting in shape for this fight.
Tara Hitchcock, Channel 3, refereed the event the while guests ate to their heart's content, with dinner prepared by the Chefs.
C-CAP is a non-profit organization that provides skill training to teachers and scholarships to graduating high school students who compete to continue their culinary education. C-CAP graduates work in many Valley restaurants, around Arizona and the country!
On Monday, March 29th, C-CAP awarded almost $430,000 in scholarships to 29 graduating seniors to continue their culinary education. These students have an opportunity to develop skills and make a contribution to Arizona's hospitality industry.
Who knows? One of them may become the next Beau MacMillan or Mark Tarbell.
For more information, visit
www.ccapinc.org
or call 623.594.0117.
See More Past Events