May, 16 2008 - Gabriel's Angels Pets Helping Kids Fundraising Breakfast
Where: Trailblazer's Terrace at the Westin Kierland Resort
When: May 16, 2008
Time: 7:00 AM
Ticket Prices: This is a free fundraising breakfast.
EMCEE: John Kowalski (producer and host of the John Adam Show on KXAM 1310)
Founders: Pam Gaber
Staff: Pam Gaber (president & founder), Zee Peters (director of development), Ron Zeka (director of programs), Alia Wilson (volunteer coordinator-East Valley), Melissa Jensen (volunteer coordinator-West Valley), Jan Hutchinson (volunteer coordinator-Tucson), Lisa Farrell (office manager)
Sponsors: CUISINE: Animal Medical & Surgical Center; TABLE GIFT: Schuster Print Management Services; SUPPORTING: Meridian Bank, N.A.
Attendance: 500
Attire: Business
Information: Zee Peters 480-460-5333
Board of Directors: Robert Burghart (chair), Sam Fogleman (vice chair), Michael Gaber (treasurer), Sarah Eagleburger (secretary), Bill Allen, Alisa Armijo, Tricia Gillespie, Loretta Love Huff, Carrie Leary, Linda Miller, Dayna Mueller, Sue Shipman, Leslie Sonnenklar, Tina Woods
Steering Committee: Nadine Allen, Dr. Wayne Anderson, Tom Ambrose, Robert Burghart, Steven Dunn, George W. Fleming, Stan Levine, Dr. Dean Rice, Jim Stone, Dr. William C. Weese
Blacktie Photos by: Amanda Searles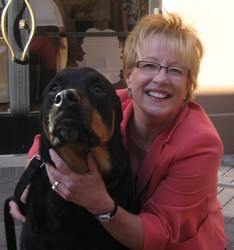 Pam Gaber (president & founder) with the guest of honor, Harley
View all photos
Gabriel's Angels "Pets Helping Kids" Fundraising Breakfast Benefits Abused and At-Risk Children
By Myra Richman
Gabriel's Angels held its fundraising and awareness breakfast event on Friday, May 16th, 2008 at the Westin Kierland Resort in the Trailblazer's Terrace. Pam Gaber, whose heart is obviously in the right place, was on hand to talk about the organization to which she's devoted.
The organization's mission is to deliver healing pet therapy to abused, neglected and at-risk children, nurturing their ability to love and trust, freeing them from the cycle of violence.
Gabriel's Angels hosts the annual event as a means to generate awareness about the organization and its mission as well as generate capital to facilitate its programs and show appreciation for those committed to helping our community. The audience was very moved by several testimonials, stories and a touching video presentation, showing the important work that Gabriel's Angels does with children in our community. Several community leaders and volunteers were there to educate and inspire guests to get involved.
"From this event, we hope to build lifelong relationships with active and community-oriented individuals interested in helping Gabriel's Angels with its mission to help abused and neglected children," says Pam Gaber, president and founder. "There are so many generous people in our community and this is a time for us to cultivate new relationships, by creating awareness about our organization."
The breakfast was free for attendees (and the beautiful dogs in attendance) and the program was planned to only last one hour.
Gabriel's Angels is a non-profit organization in Arizona. Pet Therapy Teams, owners and their dogs, visit facilities serving abused and at-risk children in the Phoenix and Tucson metropolitan areas. These visits provide children with unconditional love, and teach children compassion, nurturance and trust. The Therapy Dogs lift children's spirits, give them hope and provide safe and unconditional acceptance.
For more information about becoming a volunteer or pet therapy team please call 480.460.5333 or visit www.gabrielsangels.org.
See More Past Events