October, 04 2008 - Maricopa Health Foundation's 2008 CopaBall Gala
What: The CopaBall is the signature fundraiser of the Maricopa Health Foundation
Where: Camelback Inn - A JW Marriott Resort & Spa
When: October 4, 2008
Time: 6:00 PM
Ticket Prices: Individual Tickets - $250.00
Beneficiary: Maricopa Health Foundation
Host(s): Title Sponsor - CIGNA HealthCare of Arizona
Master of Ceremonies: Steve Irvin - Channel 15 News Anchor
Honoree(s): Adda Alexander, R.N., MBA; MacDonald Wood, M.D., FACS
Introductions: Armando Roman, Treasurer, Maricopa Health Foundation
Invocation: J. Kipp Charlton, M.D.
Welcome: Betsy Bayless, CEO, Maricopa Integrated Health System
Music: Chris Alcaraz Band
Sponsors: TITLE SPONSOR: CIGNA HealthCare of Arizona; PLATINUM: Blue Cross Blue Shield of Arizona, Gammage & Burnham, Lewis & Roca, MedPro Corporate, MedPro Dept. of Psychiatry, Stone & Youngberg, The Cowley Family Foundation, University Physicans Health Plans 1, University Physicians Health Plans 2; GOLD: HDR Architecture, Integrated Health Management Services; SILVER: Corporate Express, CompleteRx, Grace Companies, Merrill Lynch; BRONZE: Adda & Larry Alexander, Advanced Reimbursement Management, Betsey Bayless, Chamberlin Edmonds, Gentec Architects & Engineers, Inc., Health Information Services, Inc., Hospice of the Valley, Integra Telecom, Mayo Clinic, MedPro, MedPro Dept. of Surgery, Moyes Sellers & Sims, NCO Financial Systems, Inc., NHI Billing Services, Orcutt Winslow, Peacock, Hislop, Staley & Given, Inc., Ryley, Carlock & Applewhite, SDB, Inc. Spray Systems/ERI, UA College of Medicine
Auctioneer: Rowlan Hill
Quote of the evening: "We're always taking care of someone's best friend." (Honoree Adda Alexander, R.N., MBA)
Menu: SALAD: Taste of Mediterranean Salad; ENTREE: Dry Rubbed Filet Mignon w Herb & Whole Grain Mustard Crusted, Zinfandel Demi-Glace w Caramelized Shallots, Boursin Scalloped Potatoes w Seasoned Vegetables; DESSERT: Bavarian Creme & Chocolate Mousse w Ladyfingers Topped with Chocolate Shavings
Attendance: 525
Attire: Black Tie Invited or Black Tie Optional
Special Thanks: Judy Keane, Rebecca Birr, Toni West, Fallon Haardt, Jennifer Joiner, Sarah Harper, Donna Andrews, Dina Lansdell, Brophy College Preparatory and Xavier College Preparatory orchestra students
Information: Judy Keane 602-568-7256
Board of Directors: Jeffrey Simmons, J.D., (Chairman); Sarah Harper (Vice Chairman); Armando Roman, CPA (Treasurer); Michael Cowley; Delores Gomez, M.D.; Warren Whitney
Blacktie Photos by: Amanda Searles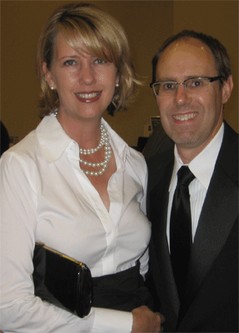 Sarah & Steven Harper
View all photos
Maricopa Health Foundation's 2008 CopaBall Gala
By Myra Richman
The 5th Annual CopaBall, the signature fundraiser of the Maricopa Health Foundation, was held Saturday, October 4th in the new ballroom of the Camelback Inn. Title sponsor was CIGNA HealthCare of Arizona. The Foundation exists to provide necessary medical care to those who are financially in need of assitance.
Attendees were greeted with cocktails and the opportunity to bid on some exciting silent auction items, followed by dinner, a live auction with auctioneer extraordinaire Rowlan Hill and then dancing to the music of the Chris Alcaraz Band.
Betsey Bayless, CEO, Maricopa Integrated Health System, welcomed the guests and made some important introductions along with Armando Roman, board treasurer. A highlight of the evening was the introduction of the relatives of Stephanie and Christian Nielson, who are recovering at The Burn Center from a recent plane crash. They were guests of Jeffrey Simmons, chairman of Maricopa Health Foundation Board.
Special honoree presentations were made to outstanding nurse Adda Alexander (Joey Ridenour, R.N. Nursing Excellence Award), and the family of the recently deceased Dr. MacDonald Wood (J. Kipp Charlton, M.D. Physician of Excellence Award). His daughter Allison gave a gracious acceptance speech on behalf of their family. Touching videos about each honoree preceeded the presentations.
Steve Irvin, Channel 15 News Anchor, was Master of Ceremonies for the third year. He obviously took his funny pills beforehand.
The 525 guests who attended the event will make a difference in the lives of many Maricopa Country children and families at Maricopa Medical Center by supporting the following: Neonatal Intensive Care Unit (NICU) providing crisis care to premature infants in need of high-cost medical interventions), The Arizona Burn Center (providing life-saving surgery and care to severely burned patients, many of whom are children, Childbirth and Parenting Education Programs (providing culturally competent, family-oriented classes for expectant mothers and families on the birth and care of infants and children, The Arizona Health Academy (providing a summer education and intern experience at Maricopa Medical Center for low-income high school students wanting to enter a medica career, plus many other programs, including the Women's Health Initiative (providing information and assistance to low-income women at-risk for or diagnosed with life-threatening illnesses.
The Maricopa Health Foundation is the philanthropic arm of Maricopa Integrated Health System. The purpose of the Foundation is to support the mission of MIHS by advancing patient welfare at Maricopa Medical Center; advancing the practices of healthcare professionals through education and research; and sponsoring educational and scientific programs, projects and activities that advance and enhance these objectives.
For more information, contact Judy Keane at 602-568-7256 or visit www.mihs.org.

See More Past Events