November, 02 2008 - The Harp Foundation's Harps in the Garden
Where: Vernon Swaback & Associates
When: November 2, 2008
Time: 4:00 PM
Ticket Prices: No charge.
Beneficiary: The Harp Foundation
Host(s): Cille and Vern Swaback
Co-Chair(s): Ann Bitters, Patrice Riegel
Executive Director: Joyce Buekers
Entertainment: Renee Morgan Brooks
Music: Harpists played throughout the gardens
Attendance: 120
Attire: Evening Attire, Business Formal or Cocktail Attire
Information: Tori Martori 602.265.4014
Blacktie Photos by: Shawn Reed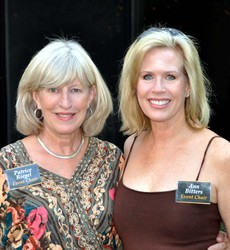 Patrice Riegel, Ann Bitters (co-chairs)
View all photos
The Harp Foundation's 3rd Annual 'Harps in the Garden'
By Myra Richman
On Sunday, November 2, 2008, 120 guests strolled through sensational gardens at sunset setting the tone for one of the most interesting and unusual events in the Valley.
Once again, Cille and Vern Swaback graciously hosted the Harp Foundation's annual event for a sensory experience of delicacies, fine wines and the healing language of the harp in their garden environment in Scottsdale.
Harpists were placed strategically in the garden, and their soothing sounds were especially calming on a weather-perfect Sunday. Renee Morgan Brooks sang to the crowd.
During a brief ceremony, Sherry and Bill Lund and Cille and Vern Swaback, special friends of the Harp Foundation, were thanked and honored for all they do.
Among the guests were Sherry and Bill Lund, Chandra Bonfiglio, Marge Ebeling (of WellCare Foundation), Trish McCarty, Mary Jane McClain and Randy Pullen.

For more information about the Harp Foundation, call 602.265.4014 or visit www.theharpfoundation.org.




See More Past Events