February, 06 2009 - Partnership for a Drug-Free America, Arizona Affiliate "Partner Up, Arizona"
Where: Corona Ranch
When: February 6, 2009
Time: 6:30 PM
Ticket Prices: $150 indiviual ticket
Beneficiary: Partnering With Families drug-free educational programs
Host(s): General Dynamics; and Presented by LifeLock
Master of Ceremonies: Paul Calvisi, KTAR Radio
Honorary Chairperson(s): Todd Davis, Laurel Prieb, Jay Bell
Founders: John Bouma, Jerry Colangelo, Harold Hurtt, Robert D. Johnson, Douglas Moss, Richard M. Romley
Co-Chair(s): Michelle Petersen & Gary Woods
Executive Director: Leslie Bloom (CEO)
Committee Members: Michelle Petersen (co-chair), Gary Woods (co-chair), Manuelita Chavez, Patty Clark, D'Andrea Clementson, Tamera Crantz, Michele Davis, Devon Engel, Debbie Gilbert, Tenley Jella, Marie McGlynn, Jyllene Miller
Entertainment: Rondavous
Of note: Surprise guests Tim & Willy of KMLE country
Sponsors: PARTNER UP! PRESENTING SPONSOR: LifeLock, Inc.; PREMIERE SPONSORS: General Dynamics, Major League Baseball; IN THE SPIRIT OF COMMITMENT: Blue Cross Blue Shield of Arizona, SCF Arizona; IN THE SPIRIT OF PARTNERSHIP: Arizona Diamondbacks, Fennemore Craig PC, Phoenix Suns, StandardAero, Steptoe & Johnson, UnitedHealthcare, Walgreens; TABLES--FRIENDS OF PARTNER UP, ARIZONA: Boys & Girls Club of Metropolitan Phoenix, JFG Consulting, KJM Building & Remodeling Services, Jyllene & Ken Miller, Ogletree Deakins
Quote of the evening: "If you speak to your kids, they're 50% less likely to use drugs."
Menu: PLATED SALAD: Baby greens and spinach salad w toasted red peppers, feta cheese & grape tomatoes; PLATED DINNER: Garlic & onion marinated flat iron steak in a poblano demi glaze/Ancho BBQ chicken, Napoleon grilled vegetables, green chile garlic whipped potatoes; jalapeno corn bread & rolls; DESSERT: Prickly pear cheesecake & margarita cheesecake
Attendance: 250
Attire: Casual Attire
Special Thanks: Bloom Video Productions, Inc (Scott Bloom); Paul Calvisi (KTAR); General Dynamics C4 Systems (Ed Green); Goodness Grows & Mimi Meredith (Flower Sponsor); HMA Public Relations; LifeLock, Inc.; Moda Fina, Mining for Jewels; Phoenix Suns Charities; Michelle Petersen (Quick Draw Photo Flip Sponsor); Katie Raml (ABC-15)
Information: Leslie Bloom, PDFA 602-664-5987
Board of Directors: Devon Engel (chair), Tom Ambrose (founding chair), Leslie M. Bloom (CEO, Arizona Affiliate), Benton V. Davis, Jyllene Miller, Michael J. Nealy, Michelle Petersen, Garth Stevens, Jim Tourek, Peter Woodfork, Gary Woods, Julio M. Zapata
Blacktie Photos by: Emily Penrod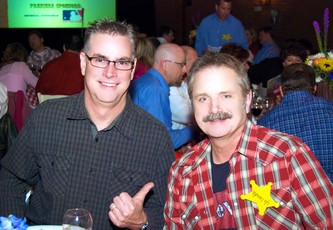 Tim & Willy (surprise guests)
View all photos
Partnership for a Drug-Free America Holds "Partner Up, Arizona" Dinner
By Myra Richman
The Partnership for a Drug-Free America, Arizona Affiliate, held a kick-off dinner on February 6, 2009 at Corona Ranch in Laveen, celebrating Partner Up, Arizona™ Week in Arizona. Partner Up, Arizona ™ Week is designed to draw attention to the alarming trend of prescription drug abuse by teenagers and to increase parent/teen conversations about the issue.
STAGGERING STATISTICS: According to a video presentation, Jerry Colangelo (a founding member) states that the average age of kids in Arizona trying drugs is 13. If we speak to our kids about drugs, they are 50% less likely to try them.
The kickoff event honored Todd Davis, CEO of LifeLock, Inc., Laurel Prieb, VP of Western Operations and Special Events for Major League Baseball, and Jay Bell, former Arizona Diamondbacks short stop and second baseman.
"The phrase 'Partner Up' is a call to action for Arizonans to become engaged on this issue and to protect their families," said Devon Engel, chairman of the board for the Partnership's Arizona Affiliate. "We hope that through the use of our website, www.PartnerUpAz.org and the observation of Partner Up, Arizona™ Week, that parents will do three things. 1. Educate themselves about the types of prescription drugs kids are abusing. 2. Talk with their children about the risks of abusing prescription medication. 3. Safeguard their medicine cabinets and ask their family and friends to do the same."
Partner Up, Arizona™ dinner was co-chaired by Michelle Petersen of Strategic Learning Solutions and Gary Woods of LifeLock. Guests had a great time in their western garb, while some were locked up in jail and saved by donors at their table. Lucky me!!! I was locked up and saved immediately by the generous donations from the executive director and board members of Boys & Girls Club of Metro Phoenix...or else, I'd still be there.
Proclamations by Governor Jan Brewer and city mayors proclaim February 8-14, 2009 as Partner Up, Arizona week and urge all Arizonans to support healthy living and drug-free kids through prevention and education. Visit www.PartnerUpAz.org.
About The Partnership for a Drug-Free America
The Partnership for a Drug-Free America was formed in 1986 by the communications industry to educate children, parents and communities about the consequences of illicit drug use and the benefits of living drug-free. The Partnership is highly regarded for its proven effective media campaigns and public awareness programs. Independent studies from academia, business and science document the profound impact of The Partnership's programs on attitudes and behavior.
The Arizona Affiliate was established in 2003 to carry out The Partnership's mission to reduce illicit drug use in Arizona while meeting the unique needs of communities. Through its programs, the Arizona Affiliate inspires and empowers Arizonans to join in a united effort to prevent illicit drug use among teens through community-based education. The Partnership is a non profit 501-c-3 organization.
See More Past Events