May, 01 2009 - Gabriel's Angels Pets Helping Kids Fundraising Breakfast
Where: Hilton Scottsdale Resort & Villas
When: May 1, 2009
Time: 7:00 AM
Ticket Prices: A complimentary fundraising breakfast
Beneficiary: Gabriel's Angels
Host(s): Gabriel's Angels
EMCEE: Kandi Lee
Founders: Pam Gaber (and Gabriel)
President(s): Pam Gaber
Staff: Pam Gaber (CEO), Larry Bergholz (COO/CFO), Zee Peters (Chief Development Officer), Lisa Farrell (Office Manager), Cassie Robles (Volunteer Coordinator, E. Valley), Shawna Kuhl (Volunteer Coordinator, W. Valley), Dawn DuBry (Communications & Outreach Coordinator), Jan Hutchinson (Director-Tucson), Art Lipski (Volunteer Coordinator-Tucson)
Speaker: Connie Phillips (executive director, Sojourner Center), Debra Markert (volunteer) with Chelsea, Wayne Anderson DVM (Arrow Group Animal Hospitals), Jason Knight
Sponsors: SPONSOR: Adolfson & Peterson Construction; TABLE GIFT SPONSOR: Animal Medical & Sugical Center N. Scottsdale; SUPPORTING SPONSORS: Casino Arizona, Wealth Management International, Ltd., Maximum Business Advantage, One-Eleven
Gala Production: MFS Event Technology (audio/visual); Becky DeVoe (invitation & program design), eBroadcastMedia.com, Envision Foto, 522 & Hummingbird Productions, Inc. (video production)
Attendance: 600
Attire: Business
Florist: Centerpieces sponsored by: Sarah Eagleburger
Information: Zee Peters, Director of Development 480-460-5333
Board of Directors: William Allen (chair), Al Wynant (vice chair), Michael Gaber (treasurer), Denise Arredondo (secretary), Robert Burghart, Shannon Chandler, Mary Collum, Jeorgetta Douglas-Acosta, Pam Gaber, Amanda Petty, Kate Seastone, Sarah Selzer, Sue Shipman, Leslie Sonnenklar, Robert A. Wiedower, Tina Woods
Steering Committee: Nadine Allen, Dr. Wayne Anderson, Tom Ambrose, Robert Burghart, Steven Dunn, George W. Fleming, Stan Levine, Dr. Dean Rice, Jim Stone, Dr. William C. Weese
Blacktie Photos by: Shawn Reed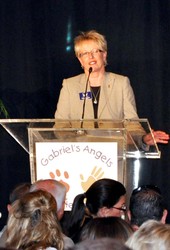 Pam Gaber, founder of Gabriel's Angels
View all photos
Gabriel's Angels Hosts Pets Helping Kids Fundraising Breakfast
By Myra Richman
This year's Gabriel's Angels 'Pets Helping Kids' fundraising and awareness breakfast was held Friday, May 1, 2009 at the Hilton Scottsdale Resort & Villas. Their mission is to deliver healing pet therapy to abused, neglected and at-risk children, nurturing their ability to love and trust--thereby freeing them from the cycle of violence.
Through testimonials, stories and a vivid video presentation, attendees got a clear picture of the work Gabriel's Angels does in the community. Community leaders and Gabriel's Angels volunteers aimed to educate and inspire guests to get involved with this fine organization.
"We strive to build lifelong relationships with active and community oriented individuals interested in helping Gabriel's Angels with its mission to help abused and neglected children," says Pam Gaber, president and founder. "There are so many generous people in our community and this is a time for us to cultivate new relationships, by creating awareness about our organization."
The breakfast was complimentary, and open to anyone who wanted to learn more about Gabriel's Angels, friends of the organization or those who wanted to support the organization financially or through volunteering.
Gabriel's Angels is an Arizona-based nonprofit organization. Pet Therapy Teams, owners and their dogs, visit facilities serving abused and at-risk children in the Phoenix and Tucson metropolitan areas. These visits provide children with unconditional love, and teach children compassion, nurturance and trust. The Therapy Dogs lift children's spirits, give them hope and provide safe and unconditional acceptance.
For more information about becoming a volunteer or pet therapy team, please call 480-460-5333 or visit www.gabrielsangels.org.
See More Past Events