September, 21 2009 - Careers through Culinary Arts Heavy Medal Culinary Challenge
Where: JW Marriott Desert Ridge Resort & Spa
When: September 21, 2009
Time: 6:30 PM
Ticket Prices: $200 per person
Beneficiary: Careers through Culinary Arts
EMCEE: Mark Tarbell (last year's winner) and Tara Hitchcock of 3TV
Executive Director: Jill Smith, Director, C-CAP Arizona
Of note: Celebrity Judges: Bob Bondurant, Debbie Gaby, David Griffin
Sponsors: JW Marriott Desert Ridge, POSH, Sub Zero/Wolf
Menu: Hors D'oeuvres: POSH - Chef's selection; Salad: POSH - Baby romaine salad w mustard vinaigrette, cold poached egg & anchovy, grano padano cheese; Entree: JW Marriott Desert Ridge - Bacon wrapped tenderloin, cannelini bean puree, petit baby chard w bordelaise sauce; Dessert: Desert Ridge - caramelized piedmont hazelnut torto, valrhona ganache & sparkling malted milk chocolate mousse
Attendance: 150
Attire: Evening Attire, Business Formal or Cocktail Attire
Special Thanks: C-CAP alumni and students, EVIT and students, Jesse Ferguson, Nan Kohout, Madeline Laughlin, Larry Levinson, Andy Naylor, Connie Thibault
Information: Sharon Levinson - 623.594.0117
Blacktie Photos by: www.tinacelle.com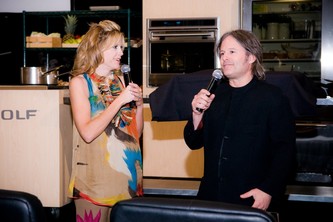 Emcees Tara Hitchcock (TV 3), Mark Tarbell (last year's winning chef)
View all photos
Careers through Culinary Arts Heavy Medal Culinary Challenge
By Myra Richman
Not a single guest left hungry on Monday, September 21, 2009, when Careers through Culinary Arts Program [C-CAP] held its second "Heavy Medal" culinary competition with two of Arizona's top chefs - Chef Oliver Reschreiter at the Marriott Desert Ridge who challenged Chef Joshua Hebert, chef owner of POSH in Scottsdale. The 'secret' ingredient was duck.

Although Chef Oliver may be new to some in the Valley, he has worked in fine restaurants around the world including at the Olympics in Beijing and as a personal chef to Princess Diana. Chef Joshua Hebert began his career at Tarbell's in Phoenix. He spent several years in San Francisco and Tokyo, returned to the Valley to head up the kitchen at Tarbell's, North and Dual. At POSH, he has received raves for his daring new concept.

Last year's winner Mark Tarbell was emcee at the Heavy Medal challenge, along with Tara Hitchcock of 3TV. Guests enjoyed a wonderful four-course dinner served with an abundant amount of wine. A very impressive chocolate dessert was prepared by Marriott's U.S. gold medal winning pastry team. Three audience members were chosen to join the celebrity judges in voting for the winning chef.
Auction items included a $500 gift certificate from Sleep America, $500 Performance Driving Experience at Bondurant's School, Four-course catered dinner for six in your home with paired wines from A-List Meetings & Events, Cooking Class and Dinner for 10 at Skye Fine Dining & Live Entertainment, Four-course dinner for 10 at one's home with fine wines from Chef Chuck Wiley of Hotel Valley Ho.
Former scholarship winner Alex Brooks told Tara Hitchcock that she could never have realized her dream of going to culinary school if it weren't for the generosity of C-CAP that raised money for her tuition.
Local celebrity judges Bob Bondurant, Debbie Gaby and David Griffin helped choose a winner.
AND THE WINNER..........Chef/owner Joshua Hebert of POSH in Scottsdale.
The proceeds from this event will benefit Arizona C-CAP high schools with teacher training, and promising graduating seniors with scholarships to further their culinary education.

For additional information, please bisit www.ccapinc.org or call 623.606.6213.

About C-CAP
The Careers through Culinary Arts Program is a 501(c)(3) not-for-profit
organization that promotes and provides foodservice career opportunities
for disadvantaged youth through culinary arts education and employment.
See More Past Events