November, 13 2009 - 2009 Phoenix Woman of Excellence Award
Where: Silverleaf Country Club
When: November 13, 2009
Time: 10:00 AM
Ticket Prices: Single Admission Ticket: $60.00 Table of 10: $550
Beneficiary: International Women's Day and Purple Ribbon Council
Host(s): Phoenix Woman magazine
Mistress of Ceremonies: Jessica Parsons, Tiffany Neihart
Honoree(s): Donna Bartos, Elaine Birks-Mitchell, Margaret Dunn, Kristen Sandquist, Lindsay Rattay, Pam Gaber, Peggy Bilsten, Sherry Lund, Tara Hitchcock, Mary Peterson
Welcome: Jessica Parsons, Editor
Of note: 2009 Woman of Excellence Award Winner: Mary Peterson (founder of Maggie's Place)
Sponsors: Coffin & Trout Fine Jewellers, Dre's Hair Salon, Nothing Bundt Cales, Rave Fabricare, Salcito Custom Homes Ltd., Saverio Custom Clothiers, Swank
Menu: FIRST COURSE: Roasted sugar-pie pumpkin soup; SECOND COURSE: Mixed greens, grilled chicken, toasted pita, pigs, peta cheese, organic greens, balsamic vinaigrette; DESSERT: "Nothing Bundt Cakes", chocolate covered strawberries
Attendance: 180
Attire: Business
Information: Jessica Parsons 480-245-5891
Board of Directors: Advisory Board: Theresa Barber, Dana Campbell-Saylor, Eddie Fischer, Kristi Hall, Shonna James, Donna Marino, Matt Owen, Myra Richman, Carolyn Rock, Kristen Sandquist, Susie Tyler-Alofs, Diana Zellers
Blacktie Photos by: www.tinacelle.com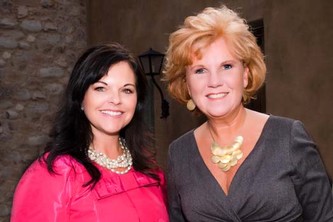 Diana Zellers and Donna Marino (both advisory board members)
View all photos
2009 Phoenix Woman of Excellence Award
By Myra Richman
Phoenix Woman magazine sponsored their first 2009 Woman of Excellence Award where a special group of philanthropic Valley woman were honored November 13, 2009 at the Woman of Excellence Luncheon at elegant Silverleaf Country Club.

The 10 outstanding and accomplished nominees were:
The "Woman of Excellence" winner of the award was Mary Peterson, who has demonstrated a commitment to improving the lives of women or girls in our community and exhibits the type of personal and professional growth that makes her an exemplary "Phoenix Woman."
All nominees received a gift bag, and Mary was presented with a beautiful diamond and gold necklace designed especially for her by Coffin & Trout Fine Jewellers.
In keeping with Phoenix Woman's Focused, Fun and Fiercely Local theme, all the women nominees have shown focus on worthy goals by demonstrating character, commitment and leadership; fun by exhibiting a positive outlook, sense of humor and winning personality; and fiercely local by showing a dedication to serving the local community.
For more information, contact www.phoenixwoman.com.
At the beginning of the day's event, guests mingled and were treated to tasty sweets, while Swank's Shop for a Cause was featured in the courtyard along with a silent auction. Swank donated 10% of all proceeds to benefit education through The International Women's Day Scholarship Program and domestic violence awareness through the Purple Ribbon Council.
See More Past Events