November, 18 2009 - 25th Annual Philanthropy Leadership Awards Dinner
Where: Sheraton Phoenix Downtown
When: November 18, 2009
Time: 6:00 PM
Ticket Prices: $125
Beneficiary: Association of Fundraising Professionals - Greater AZ Chapter
Host(s): Association of Fundraising Professionals - Greater AZ Chapter
Mistress of Ceremonies: Lori Jane Gliha, ABC15 News
Honoree(s): PHILANTHROPY LEADERSHIP AWARDS: Beverly Duzik (Outstanding Fundraising Executive); Daily News-Sun & KTVK-3TV (Outstanding Media Organizations); Shamrock Foods/The Emerald Foundation (Outstanding Corporation); John W. Graham (Outstanding Volunteer Fundraiser); Barbara Anderson Stoiber (Outstanding Philanthropist)
Co-Chair(s): Elizabeth Kaplan
Committee Members: Liz Kaplan (Chairman); Kimberly Carkhuff, Alma Chavez-Lira, Cameron Childs, Brian Fergus, Bill J. Harrison, CFRE, Megan Jefferies, Michelle Just, Kathy Kramer, Melissa Magyar, Helen Tanner, Jessica Zaragoza
President(s): Robin Dunn
Entertainment: Arizona School of the Arts Jazz Band
Sponsors: PLATINUM: National Bank of Arizona; SILVER: APS, Banner Health, Barrow Neurological Foundation, St. Joseph's Foundation; SPARKLING: The Phoenix Philanthropy Group, Beatitudes Campus, Make-A-Wish, ewingconsulting, llc, Sonoran Studios, Young & Company, The Cagney Company, Wells Fargo, Sheraton Phoenix Downtown; BRILLIANT: Magical Marketing
Quote of the evening: "$10 million donated from the honorees represent 20,000 hours of service."
Attendance: 640
Attire: Evening Attire, Business Formal or Cocktail Attire
Information: Karolyn Kiburz 480-947-3459
Board of Directors: Robin Dunn (president), Jacquelyn Ahrenberg (president elect), Sue Gaub (VP), Nichole Barnes (secretary), Alan Knoblach, CFRE (treasurer), Hazel Richards, CFRE (immediate past president), Anne White, PhD, CFRE (advancement fund), Mary Lee Hoffman, CFRE (career services), Sandra Jorgensen, CFRE (CFRE resource committee), Elaine Fogel (communications), Penelope Cagney, CFRE (education), Marla Bassler (government relations), Louise Bowden, CFRE (member services), Mark Walker, CFRE (member at large), Karen Ramsey (member at large), Hazel Richards, CFRE (mentoring program), Liz Kaplan (awards dinner), Michelle Just (scholarships), Ken Brissa (sponsorships), Karen Santoni (volunteer services)
Blacktie Photos by: Tom Spaulding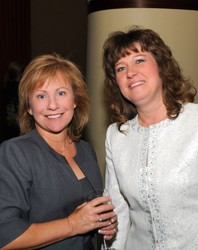 Lee Hartmann, Robin Dunn (president)
View all photos
25th Annual Philanthropy Leadership Awards Dinner
By Myra Richman
The Association of Fundraising Professionals (AFP) held its 25th Annual Philanthropy Leadership Awards Dinner at the Sheraton Phoenix Downtown on Wednesday, November 18th, 2009.
With more than 640 people in attendance, several honorees were shown appreciation for their well-deserved efforts in support of our community with Spirit of Philanthropy Awards, escorted onstage by board members.
Philanthropy Leadership Awards were presented to: Beverly Duzik (Outstanding Fundraising Executive), Daily News-Sun & KTVK-3TV (Outstanding Media Organizations), Shamrock Foods/The Emerald Foundation (Outstanding Corporation), John W. Graham (Outstanding Volunteer Fundraiser) and Barbara Anderson Stoiber (Outstanding Philanthropist).
National Philanthropy Day is the special day set aside to recognize and pay tribute to the great contributions that philanthropy--and those people active in the philanthropic community--have made to our lives, our communities and our world. This year marks the 25th anniversary of this special day.
About AFP
Today, over 300 members represent a vast network of charitable organizations, consultants and vendors to the nonprofit sector. All have one thing in common for which they must sign annually in their membership renewals -- to foster the development and growth of fundraising professionals and the profession, to promote high ethical behavior in the fundraising profession, and to preserve and enhance philanthropy and volunteerism.
See More Past Events