November, 14 2009 - AZ Dream Builder Foundation Presents 2nd Annual Arizona Dream Dinner...in partnership with Maricopa Community Colleges
What: Scholarships were awarded to Arizona students.
Where: Hyatt Regency Phoenix
When: November 14, 2009
Time: 6:45 PM
Ticket Prices: $150 per person
Honoree(s): DREAM SCHOLARS: Jason Artigas, Zaida Bailon, Shanekqua Davis, Kyle Dawson, and Luis Delgadillo
EMCEE: Liana Arenas (Ch 3TV News producer/reporter)
Founders: Valerie Churchwell
Co-Chair(s): Steven R. Helfgot, Ed. D. (President & CEO Maricopa Community Colleges Foundation)
Invocation: Pastor Sherman J. Fort
Welcome: Ambra Jordan and David Del-Toro Tellez (Inaugural Scholar Winners)
Speaker: Edward N. Basha III is Senior Vice President of Legal and Financial Affairs for Bashas'
Entertainment: Celeste Perez (National Anthem); Kingdom Dancers United; Dominic Amato (Recording Artist)
Sponsors: Maricopa Community Colleges, Zwillinger Greek Zwillinger & Knecht Law Group, Cibolo LLC, Bresnahan Family & Friends, Canaan Missionary Baptist Church, Beverly & Ross West, DP Electric, Engleman/Burger PC Attorney at Law, Junior Executives, Myles & KJ West, One Team Investment, Veilo Transportation, Arizona Republic, Huddleson-Manlove Family, Pima Awards, Turner Construction
Quote of the evening: "Intelligence plus character -- that is the goal of true education." (Martin Luther King Jr.)
Information: Beverly West 602-341-9691
Board of Directors: Jeff Abraham, Sara Bresnahan, Valerie Churchwell (Board President), Larry Dukeman, Dr. Sylvia Manlove, Bobbie O'Boyle, Garry Walters, Beverly West, Ron Williams, Gary Zwillinger
Blacktie Photos by: Shawn Reed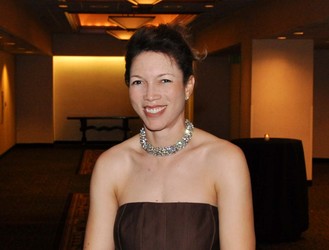 Valerie Churchwell (founder & president)
View all photos
AZ Dream Builders - Scholarship Dinner
The Arizona Dream Builder Foundation 2nd Annual Dinner was help on Saturday, November 14, 2009 at the Hyatt Regency Phoenix.
The mission of the Arizona Dream Builder Foundation is to provide educational opportunities to youth in Arizona who show promise to the tenets of Dr. Martin Luther King Jr. and other great leaders.
Entertaining the Dream Dinner guests were Dominic Amato (jazz artist), Gabrielle Dotson (a 14-year-old freshman at Corona del Sol High School in Tempe), Celeste Perez (a 6th grade student attending Tonalea Elementary School in Scottsdale) and Krystylle and Ben Richardson (founders of Faith Celebration Ministries and Kingdom Dancers United).
Opportunities will be provided in the form of internships, scholarships and mentorships. To that end, they recognize organizations and individuals that support those tenets while enhancing the lives of Arizona's youth and the community.
The internship program is a seven week commitment for the student and the employer. This is a paid internship program. Again this year, Maricopa Community Colleges has partnered with Arizona Dream Builders for internships. "Shape a future, make a defference," students with relevant work experience own a tremendous edge in today's competitive market.
For more information, visit www.azdreambuilder.org or call 602-690-6680.
See More Past Events