March, 05 2010 - Dancing with the Stars Arizona 2010: Movies & Musicals
What: Arizona's local Celebrity Stars partnered with professional ballroom dance instructors to waltz, rumba and cha-cha-cha in a fun and fabulous ballroom dance competition. Celebrity Dance Champions were determined by audience votes and professional ballroom dance adjudicators' scores. Thrilling exhibition performances by world renowned ballroom dance champions.
Where: Arizona Biltmore Resort and Spa
When: March 5, 2010
Time: 6:00 PM
Beneficiary: Arizona Kidney Foundation
Mistress of Ceremonies: Tara Hitchcock
Honoree(s): Etoile Award awarded by the co-chairs to Linda Dean
Co-Chair(s): Chrissy & Mark Donnelly; Vicki & Vernon Vaughn
Executive Director: Chief Executive Officer: Jeffrey D. Neff
Music: Alice Tatum Orchestra
Of note: Ballroom Dance Adjudicators: Debbie Avalos; Sheryl Cooper; Linda Dean
Sponsors: AMERICAN SMOOTH: Janet & Clive Cussler; BROADWAY: Arizona Kidney Disease & Hypertension Center, Blue Cross Blue Shield of Arizona, Inc., Jack Clifford, Lavinia Family Foundation, Linda & Bill Pope, Vince Vaughn & Vicki & Vernon Vaughn; HOLLYWOOD: Molina Fine Jewelers, Knight Transportation, Garcia Family Foundation; PLAYBILL: Andy & Shari Bombeck, Arizona Women's Board, Cable ONE, Herman Chanen, Drew Colquitt, Jacquie Dorrance & Carole Moreno, Laurie & Budd Florkiewicz, Jeanne & Gary Herberger, Gallagher & Kennedy PA, The Lamb Foundation, Heidi Lisherness, Carole & Bob Machiz, Sandra & Ralph Matteucci Foundation Inc., Mayo Clinic, Diane & Tom Might, Paulina & Jason Morris, Heather Novak, Anne Robbs, Karen & Wayne Schreck, Glenna & Lawrence Shapiro, Schmidt Westergard & Co. PLLC, SRP Earthwise Energy, Lauri Termansen, Heather Wagenhals, Bruce Ward, Vanderbilt Farms
Quote of the evening: "1,600 people in Arizona are waiting for a kidney transplant, including someone in our audience tonight," said Andy Bombeck
Menu: Hors d'oeuvres: Portobello and Herb Mushroom Popover, Miniature Beef Wellington; Salad: Cucumber Wrapped Lolla Rossa, Springtime Fig Compote, Black Mesa Goat Cheese on Crostini, Organic Tomatoes and Cherry Vinaigrette; Entree: Shallot Crusted Filet of Beef and Rocky Point Shrimp, Lobster Porcini Risotto, Thin Beans, Candied Stripe Beets and Roasted Carrots, Veal Stock Reduction and Sweet Basil Pesto; Dessert: Butterscotch Pudding w Sea Salt, Almond Biscotti Cookies and Edible Gold Leaf
Attendance: 650
Attire: Evening Attire, Business Formal or Cocktail Attire
Information: Jamie Craig Dove 602-840-1644
Board of Directors: Samuel H. Rogers, Jr., CFA (Chairman) Christopher J. Hogan, RPh (Vice Chairman) André F. Wilson (Secretary) Bruce A. Meyer, JD, LL.M (Treasurer) Jeff H. Weintraub, CPA (Immediate Past Chair) Carolyn L. Ashby Andrew W. Bombeck Kenneth R. Boren, MD Lee A. Cauble, BSN, RN Marchelle F. Franklin Linda J. Gantt John P. Heileman, MD Vance M. Julian, MD Sally Roberts Mayer Paul S. Molchan, MD, MPh Virginia Nosky Savas Petrides, MD Mindy R. Smith, RPh Charles M. Thomas, LCSW, ACSW Michael R. Urman, ESQ Glenna Jones Shapiro (Emerita) Bruce Z. Morgenstern, MD (Medical Advisory Board) Jeffrey D. Neff (Chief Executive Officer)
Steering Committee: Chrissy & Mark Donnelly and Vicki & Vernon Vaughn (Co-Chairs) Jan Clayton, Libby Cohen, and Patricia 'Patsy' Livi (Immediate Past Chairs) Marguerite* and Jack Cliff ord, Glenna Shapiro (Chairmen Emeritus) *In loving memory George Abrams, Julie Adelson, Cheryl Anderson, Julia Baker Michael Barnard, Gail Cain, Linda Dean, Bill Dougherty Janet DuVal, Marian Felker, Tanner Flynn, Linda Gantt Vicki Jensen, Darlene Keller-Price, Lois LeMarr, Melissa Leonesio, James Linsmayer, Heidi Lisherness, Karin McAreavy, Beth McRae, Bruce Meyer, Sandra Michele Roxane Papas, Linda Pope, Donna Popich, DeeDee Rowe Larry Stewart, Anne Thoits, Jeff Weintraub, Alan Young
Blacktie Photos by: www.tinacelle.com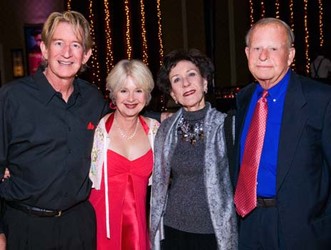 Andy & Shari Bombeck, Karen & Sam Rogers
View all photos
Arizona Kidney Foundation Presents Movies and Musicals: Dancing with the Stars Arizona 2010 --
By Myra Richman
It was Fred and Ginger all over again at the Dancing with the Stars Arizona 2010 'sold out' event at the Arizona Biltmore Resort & Spa on March 5th, when several Valley socialites hit the floor for the fourth year, hoping to bring home a trophy.
The Arizona Kidney Foundation once again brought out Valley troupers and celebutants to pair up with talented professional dancers and trip the light fantastic. Guests of the gala were also treated to ballroom competitive dance exhibitions.
This year's Dancing with the Stars Arizona event was co-chaired by Mark and Chrissy Donnelly and Vicki and Vernon Vaughn. The list of competitors included TV personality Brad Perry, Derek Molina of Molina Fine Jewelers, real estate guru Heather Wagenhals, restaurateur Mark Tarbell, socialites Sallie Brophy Najafi and Krissy Wolfswinkel, and world renown artist Victor Ostrovsky. In addition to dancing, Ostrovsky created a one-of-a-kind artwork masterpiece exclusively for Dancing with the Stars Arizona 2010.
Ostrovsky's work, entitled "Desert Stars", valued at $40,000 was auctioned off live at the event. In addition to the original, 35 limited edition Artist's Proofs were available for $3,600 and 99 signed and numbered giclees could be purchased for $1,800. All proceeds will directly benefit the Arizona Kidney Foundation's programs and services.
"We were truly blessed to have such a community-minded group of people support us this year," Jamie Dove, Development Director of AKF, said. "This fundraiser, especially with such a generous donation from Ostrovsky, will greatly benefit the programs and services of the Arizona Kidney Foundation and directly supports your fellow Arizonans battling chronic kidney disease. Nearly every one of Arizona's most generous philanthropists and personalities was in the audience. It was an evening not to be missed!"
Visiting from New York was John Davis, CEO of the National Kidney Foundation.
The celebrity star dancers were: Sallie Brophy Najafi, Karen Hayenga, Heather Novak, Claire Ownby, Tracy Penwell, Denise Shorall, Heather Wagenhals, Krissy Wolfswinkel, Paul Charlton, Robert J. Lavinia, Derek Molina, Victor Ostrovsky, Brad Perry, Mark Tarbell, Bruce Ward and Bruce Werber.
The celebrity star dancers were judged by professional ballroom dance adjudicators employing international ballroom dance competition standards to determine the male and female Judges' Choice. But the evening had an added twist, much like the TV show, in that votes for the dancers and couples were also available for purchase. Audience votes were cast and counted for the selection of the People's Choice Champion. Couples were: Shari & Andy Bombeck, Paulina & Jason Morris, Pamela Rotalo & Bob Sahd, Denise & Patrick van den Bossche and Anne Robbs & Ken Euge.
AND THE ENVELOPE PLEASE: The winners were: Couples - (People's Choice) Anne Robbs & Ken Euge; (Judge's Choice) Paulina & Jason Morris. Single Dancers - (People's Choice Male) Bruce Ward with Bree Watson; (People's Choice Female) Sallie Brophy Najafi with Artem Plakhotnyi; (Judge's Choice Male) Mark Tarbell and Deborah Kastner; (Judge's Choice Female) Karen Hayenga and JC Yeh.
Arizona Kidney Foundation is a state wide non-profit foundation dedicated to providing education about Chronic Kidney Disease (CKD) and helping kidney disease sufferers overcome the medical, financial and logistical challenges of CKD. In 2010, the Foundation commemorates its 47th anniversary of providing dynamic programs, direct patient support, kidney health initiatives and organ donation awareness.
For more information, call (602) 840-1644 or visit www.azkidney.org
See More Past Events