May, 15 2010 - K2 Adventures Foundation - BVLGARI Event
What: A BVLGARI fashion event to benefit children and animals with disabilities
Where: Silverleaf Country Club
When: May 15, 2010
Time: 11:00 AM
Beneficiary: K2 Adventures Foundation
Founders: Kristen Salcito, Kevin Cherilla
Introductions: Kristen Salcito
Speaker: Jim Scott, founder of Scottsdale Fashion Week
Of note: Everyone went home with a key in a box, donated by Bulgari. One of the keys will open a special box in the store and the winner will receive a beautiful piece of jewelry.
Sponsors: BULGARI; Ferguson Bath, Kitchen & Lighting Center; Inmotion Production; Kitchell-Perez; KC Summits; Scottsdale Fashion Week; Swank
Gala Production: The Agency
Menu: FIRST COURSE: Hearts of Romaine w kalamata olive vinaigrette and goat cheese rusk; SECOND COURSE: Wood Grilled Chicken Breast w white truffle polenta, roasted eggplant and pancetta w fennel-basil cream; DESSERT: 3-tiered stands w mini cannolis, pistachio biscotti and fruit tarts
Models/Fashions: The Agency (Margaret Merritt); Bulgari, Saks Fifth Avenue
Information: Kristen Salcito 480.797.2950
Blacktie Photos by: Blacktie-Arizona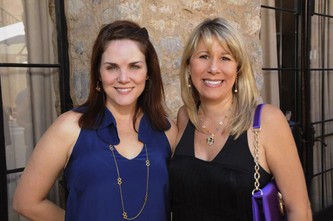 Tandy Vincent, Kristen Salcito
View all photos
K2 Adventures Foundation - BVLGARI Event
By Myra Richman
On Saturday, May 15, 2010, Bulgari and K2 Adventures Foundation held its 1st Annual Fashion Event and Luncheon at the Silverleaf Country Club in north Scottsdale, celebrating the first anniversary of Bulgari's boutique at Fashion Square, Scottsdale.
The cocktail reception and silent auction were held on the patio terrace, followed by a luncheon, fashion show featuring Bulgari jewelry and accessories and a live auction. The fashion show featured dramatic models in black dresses wearing jewelry and accessories by Bulgari, walking through the audience and posing on black pedestals.
Proceeds from the luncheon event will benefit Hacienda Healthcare, Whispering Hope Ranch Foundation, Arizona Humane Society and Mwereni Integrated School for the Blind in Africa. A video presentation showcased each nonprofit, detailing the mission of each.
About K2 Adventures Foundation
To make a difference in the lives of children with special needs worldwide, both in the U.S. and Africa. Funds generated and donated by K2 Adventures are used to create and sustain educational enrichment programs and facilities and encourage learning through outdoor camps and adventures.
For more information, please visit www.k2adventuresfoundation.org
See More Past Events