September, 19 2010 - C-CAP "Heavy Medal Culinary Challenge"
What: A CULINARY COMPETITION and DINNER. Two exciting chefs, FRANCESCO ROCCATO, InterContinental Montelucia Resort and Spa, and CHARLES KASSELS, El Chorro Lodge Restaurant, competed to impress celebrity judges and a few lucky audience members with their range of culinary artistry and expertise at this challenge.
Where: Intercontinental Montelucia Resort and Spa
When: September 19, 2010
Time: 6:00 PM
Ticket Prices: $175.00
Beneficiary: Culinary Arts Education
Master of Ceremonies: Chef Beau MacMillan, Executive Chef, The Sanctuary on Camelback Mountain
Executive Director: Jill Smith, Director, C-CAP Arizona
Music: Harpist Paula Provo
Of note: Competition Sous Chefs: Jared Porter, Chelsea Edwards (The Parlor); Tommy Lanoue, Rubin Brito (The Westin Kierland)
Sponsors: SIGNATURE SPONSORS: El Chorro Lodge; InterContinental Montelucia Resort & Joya Spa; Viking Range presented by SunWest Appliance Distributing EVENT SPONSORS: Alliance Beverage Distributing Company; FIJI Water; SunWest Appliance Distributing
Auctioneer: Chef Beau MacMillan
Quote of the evening: "My work with C-CAP over the years brought me such joy and satisfaction working with students and seeing their success, but the most enduring memories are of the dedicated teachers in Arizona who had to retrain the skills from the Home Economics model of yesteryear to the 'culinary arts' skills needed to train the future culinarians we will need. (Barbara Colleary)
Menu: SALAD: Warm mushroom salad w wild arugula and Mancheco cheese finished w an aged cherry vinaigrette; ENTREE: Beef filet served w Wild Mushroom Fricassee and Bordeaux Sauce; DESSERT: Julia Baker Confections--White Chocolate Passion, Delicate coconut sponge cake layered with passion fruit creme/white chocolate and coconut creme
Attendance: 125
Attire: Business Casual
Special Thanks: Joshua Reach, Brian Colkit, Gene Devine (The Art Institute of Phoenix); C-CAP Alumni & Students; Annie Itsell & Sally Utley (InterContinental Montelucia Resort & Spa); Jesse Ferguson, Paula Provo
Information: Sharon Levinson 623.594.0117
Event Coordinator: Sharon Levinson
Blacktie Photos by: Erin Vincent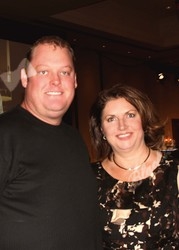 Chef Beau MacMillan (Master of Ceremonies), Jill Smith (Director C-CAP Arizona)
View all photos
C-CAP held its "Third Annual Heavy Medal Culinary Competition" on Sunday, September 19, 2010 at the Intercontinental Montelucia Resort and Spa in ParadiseValley. It was, undoubtedly, the ultimate 'foodie' event that kicked off the Valley season.

The mystery ingredient for the evening was WILD MUSHROOMS. And, as the suspense grew, celebrity judges Bob Bondurant, Debbie Gaby and Phoenix Suns Coach Alvin Gentry selected a winner from two teams, led by Valley chefs Francesco Roccato, InterContinental Montelucia Resort and Spa and Charles Kassels, El Chorro Lodge Restaurant. Three members of the audience were selected to join the three celebrity judges in selecting the winning team.

Iron Chef America winner Beau MacMillan, executive chef at the Sanctuary on Camelback Mountain Resort and Spa, was the witty master of ceremonies for the event, and introduced Valley food connoisseurs in the crowd, including former C-CAP executive director and food writer Barbara Colleary.

Guests were served a mouth-watering four-course dinner with expertly matched wines as they watched the two well-known chefs in action, fighting for the title while the clock was ticking away. Gracious C-CAP students assisted in preparing the meal and serving dinner.

C-CAP is a nonprofit organization that provides teacher training and scholarships to promising culinary arts students in public schools in Arizona as well as six cities throughout the country. Students from 55 Arizona culinary programs participate in annual competitions for honors and scholarships to further their culinary careers and to become successfully employed in the food service industry. In spring of 2010, Arizona C-CAP students were awarded scholarships totaling $544,824

Chef Roccato, who oversees the Prado Restaurant, POQ and banquet/wedding catered events at the InterContinental Montelucia Resort and Spa, grew up in Torino, Italy. He is an active member of the Slow Food movement and is dedicated to ensuring use of the freshest quality ingredients. He completed the program at the Culinary Institute of Canada and worked for Canadian Pacific Hotels before earning his master's in Italian cuisine in Costigliole d'Asti, Italy. Prior to joining the InterContinental Montelucia Resort and Spa, he was at the InterContinental Hotel Valencia in Spain and the InterContinental Cleveland in Ohio.

Chef Kassels continues the legacy and traditions of the 70-year-old El Chorro Lodge in Paradise Valley. He blends seasonal and regional organic ingredients with Southwest, Continental and Sonoran influences. Chef Kassels returned to his native Arizona after working at the Old House Restaurant at the Ed Dorado Resort in Santa Fe. He also worked at the Westin Kierland Resort, the Boulders Resort, Continental Catering and at Barmouche, under the tutelage of Chef Mark Tarbell. He has served as chef at many high profile events, including the FBR Open, the Winston Cup NASCAR Race in Phoenix and the Santa Fe Wine and Chile Festival. He trained at the Culinary Institute of Americas in New York.

Director Jill Smith introduced various alumni and teachers, then graciously suggested that we all raise a glass to the ultimate volunteer -- Sharon Levinson, for helping to make the evening a roaring success

And the winner for the evening was...............CHEF CHARLES KASSELS
C-CAP operates programs in seven locations: New York, Los Angeles, Chicago, Philadelphia, Hampton Roads, Va, Prince George's County, Maryland and statewide in Arizona. The program provides training and curriculum enrichmanet programs including teacher training, scholarships, cooking competitions, job shadows, job training, interships and career advising, college advising and College 101 Workshops, and products donations.
For more information, call visit www.ccapinc.org.
See More Past Events