October, 02 2010 - Salute... a benefit for Children with Arthritis
What: Casual gala with silent and live auction and the famous balloon pops!
Where: Chaparral Suites Resort
When: October 2, 2010
Time: 6:00 PM
Ticket Prices: $200
Beneficiary: Children with Juvenile Arthritis
Host(s): Blue Cross Blue Shield of Arizona
EMCEE: Marty Manning, 99.9 KEZ; Nate Tucker (Past Honorary Chair)
Gala Chairperson(s): Reisha Zang
Honorary Chairperson(s): (Very special kids) Neha Basu, Searra Foote, Joey Offenberger
Co-Chair(s): Jane Proctor
President(s): & CEO: Vikki Scarafiotti
Staff: Kristie Archer, Allie Avishai, Sam Clawson, Jody Howell, Matthew Jefferson, Jared Leslie, Marilyn Murphy, Taryn Lopez Norley, Dee Nortman, Stephanie Seitts
Entertainment: Dr. Seuss characters
Sponsors: PRESENTING: Blue Cross Blue Shield of Arizona; TRIBUTE: Henry & Horne, LLP/M&I; Wealth Management; SALUTE: Carolyn S. Allen, Arizona Institute of Footcare Physicians, Arizona Spine & Joint Hospital, Casino Arizona, EVDI Medical Imaging, Fennemore Craig, Bruce & Helen Heiden, HP Enterprise Services, Rose & Harry Papp, Phoenix Orthopaedic Consultants PC, Jane Proctor, Chuck & Kristin Sowers, Therapath, Triwest Healthcare Alliance
Quote of the evening: "Camp Cruz means to me...It's fun and it gets me to try things I normally wouldn't. It helped me be more social. Camp Cruz also helped me learn more about other people. The staff is great and the other campers are awesome." (14 year old Alyssa R.)
Attendance: 250
Attire: Business Casual
Information: Mathew Jefferson 602-212-9908
Board of Directors: CHAIR: Warren C. Rizzo, MD; IMMEDIATE PAST CHAIR: Carolyn S. Allen; VICE CHAIR: Rob Leslie, CPA; TREASURER: Thomas Avery, CPA; MEMBERS: Brenda Gossage, Chuck Sowers, Daniel Burchfield MD/PHD, Daniel Schulman DPM, Douglas Morrow, Earl Louis Feng MD, Fiona Cross-Mesko, George Seitts, Georgie Ortiz CPA, Harry A. Papp, Jacob Brown, Jane Proctor, Joann Hurley, Kelly Silberschlag, Kristi McShay, Marc J. Rosen MD, Nora Mandel, Patricia Block, Paul F. Howard MD, Peter Fischer, Reisha Zang, Rob Leslie CPA, Stephen W. Brown PHD, T. James Lee, Todd Hauge, Tom Avery, Tricia Herber, Walter Behm, Warren Rizzo MD, William Kohl; HONORARY BOARD MEMBERS: Anthony K. Hedley MD, Barbara Caldwell-Taylor, David Gonzalez, Donald Goldman, Jeff Walsh, Kelli Riley, Maureen Wade, Rich Boals, Ronald G. Wilson, Scott Erickson, Stan Levine
Blacktie Photos by: Erin Vincent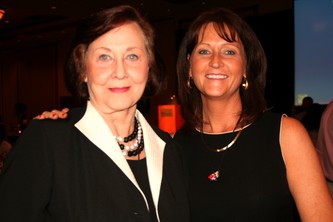 Helen & Holly Heiden
View all photos
....By Myra Richman...
Arthritis Foundation Greater Southwest Chapter held its"Salute, A Benefit for Children with Arthritis" event on Saturday, October 2, 2010 at Chaparral Suites in Scottsdale.
Beginning with a cocktail reception, a huge array of silent auction items, several tables of creative buffet items and a live auction, Salute attracted a large and fun crowd and was a big success.
Drawing on the Dr. Seuss theme where anything is possible, the Cat in the Hat, the Grinch and other characters mingled with guests and brought a lot of smiles to the kids and adults alike. Visiting with several spirited kids who experience this painful disease was a reminder of what they go through every day. Their participation in the event seemed to give them strength as they helped sell balloon pops and thank all the guests for their efforts to cure arthritis. They were the superstars of the evening!
"I hope that people will find a cure for arthritis soon so that adults and kids don't have to go through what I and many others live with everyday. I believe that we can find a cure," said handsome 13-year-old Honorary Chair Joey Offenberger.
Another Honorary Chair, ten-year-old Searra Foote said she wants to be a physician to take care of people like Dr. Howard takes care of her.
Everything was lively and creative at this very friendly event--the imaginative centerpieces, the colorful program, the delicious food---and, especially those great brave kids.
For more information, please call 602-212-9900 or visit www.arthritis.org.
See More Past Events