October, 09 2010 - WellCare Foundation Presents: Showtime!
Where: Talking Stick Resort
When: October 9, 2010
Time: 6:30 PM
Beneficiary: Women and Children
EMCEE: Terri O (Valley TV personality)
Founders: Marge Ebeling (CEO/founder)
Co-Chair(s): Sandra Corder and K.T. Tamm
Executive Director: Anne Gill
Welcome: Terri O
Entertainment: Mark Cordes (comedian)
Music: ShowStopper Performers, Pam Morita (jazz pianist)
Sponsors: MAJOR SPONSOR: The Leona Group, LLC; VISIONARY SPONSORS: The Ebeling Group, Hospice of The Valley, Celebration Stem Cell Centre; PATRON SPONSORS: Quarles & Brady LLP, US Bank, United Healthcare, MPB Realty, Mackenzie Stanton & Rauch, Hermanson & Everroad Ltd., Serenity Hospice, Sandweg & Ager PC, David & Carol Cheney, Jim & Debbie Krasne, Marge Ebeling
Auctioneer: George Cunningham
Quote of the evening: "There are more than 175,000 single working mothers and their children, in Maricopa County alone, who are without needed healthcare and the number continues to grow." (CEO/founder Marge Ebeling)
Menu: LOUNGE SALAD: Chopped greens, stuffed olives, pickled asparagus, sliced egg, cornishon, blue cheese; ENTREE: Beef tournedos, wild mushroom ragout w shallots, jumbo asparagus, orange and yellow carrots, green and yellow squash, fried Irish cheddar polenta; DESSERT: Romeo and Juliette duet...chocolate mousse terrine complimented by a cheese mousse, raspberry sponge cake, fresh berries on a painted plate
Attendance: 225
Attire: Evening Attire, Business Formal or Cocktail Attire
Special Thanks: Terri Ouellette; George Cunningham; Jacki Semerau & Kimberly Wang; Wanye Marcus & Andrea Snapp/Casino Arizona; Jennifer Woodburn & Talking Stick Resort; Chef Thomas O'Malley; Laura Korin Saenz; Blacktie-Arizona; Mark Cordes; ShowStopper performers; Pam Morita; Great American Travel; Mr. & Mrs. John Clemency; Mr. & Mrs. Omar Nezirevic; Mr. & Mrs. Brian Imbornoni; Mr. & Mrs. John Vanderwey; Mr. Jack Baker; M&I; Bank; Catholic Healthcare West; Gordon Graphics; Moesart Studio; Nothing Bundt Cakes
Information: Anne Gill 602.263.7619
Board of Directors: Albert E. Stimac (chairman), William H. Sandweg 111 (vice chairman), Debbie Krasne (secretary), Mackenzie Stanton CPA, CVA (treasurer), Marge Ebeling, RN, DCh, PhD (founder/president), Sherry Lund; Toni Rudolph; Cassidy Kersten; Robert Van Laarhoven, PhD; Kaki O'Shaughnessy; Gina M. Conflitti, MD, FACP, CPE; K.T. Tamm; Lorraine Brophy; Sandra Corder; Melody Emmert; Myra Richman; Joe Fusaro; David Cheney, FACHE; Beth Liguori, RN, MSN; Ethel Hoffman
Blacktie Photos by: Erin Vincent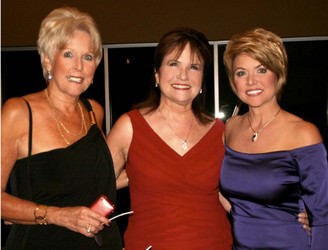 Sandra Corder (co-chair), Marge Ebeling (CEO/founder), Terri O (event emcee)
View all photos
...By Myra Richman...
WellCare Foundation held its 11th annual fundraiser on Saturday, October 9, 2010 at the new Talking Stick Resort in Scottsdale.
The entertaining evening began with a cocktail reception and outstanding silent auction (organized by Debbie Krasne) in a beautiful, spacious area adjacent to the Grand Ballroom. Gorgeous showgirls were on hand to meet-and-greet the guests, which set the tone for the first-time theme: SHOWTIME!...a musical and comedy tribute to some of America's greatest superstars.
And, SHOWTIME it was as soon as the crowd entered the Grand Ballroom. Beginning with a Native American blessing, the evening was off to a great start as the spirited Valley TV personality Terri O took to the stage and charmed the audience of 235 supporters. As emcee, Terri O was sidekick to auctioneer George Cunningham and raised some significant funds for a very worthy cause during the live auction, featuring three outstanding experiences.
The highlight of the evening came when two special WellCare moms, Jacki Semerau and Kimberly Wang, together presented a song-and-story performance of some of the hardships single mothers must endure, how the economy recently turned against these successful business women (who hasn't been affected????) and how WellCare gave them security, knowing their healthcare will be handled---for them and their children. They expressed their gratitude to Marge Ebeling, CEO and founder of WellCare with such dignity and style, and showed the guests what WellCare Foundation is all about--and where all the dollars raised are going.
More fun. The Garth Brooks tribute had everyone singing; the Four Tops quartet had everyone dancing in the aisles; the showgirls had every man gazing; and the comedian Mark Cordes had everyone howling with laughter.
Co-chairs Sandra Corder and KT Tamm should stand up and take a bow. And with their intention of continuing the theme, next year's event should be SRO.
WellCare Foundation provides free, integrated primary healthcare to working, single mothers and their children who are not on government aid and cannot afford the cost of health insurance or to pay for needed healthcare. Many of the 138 volunteer practitioners were in attendance.
For more information, please visit www.WellCareFoundation.org
See More Past Events