November, 06 2010 - Arizona Assistance in Health Care MASH Party
What: Mash Party
Where: Westside Complex
When: November 6, 2010
Time: 6:00 PM
Ticket Prices: $150 per person
Beneficiary: Cancer Patients Currently Undergoing Treatment
Host(s): Cancer Treatment Centers of America, Southwest Ambulance, West Valley National Bank
Master of Ceremonies: Matt Russell
Honorary Chairperson(s): Barbara & Mike Gallagher
President(s): Jill Veillette
Catering: Q to U BBQ - Anthem, Arizona
Entertainment: Shining Star
Sponsors: GENERAL: Cancer Treatment Centers of America; COLONEL: Southwest Ambulance; MAJOR: APS, David & Jill Veillette; CAPTAIN: Michael & Barbara Gallagher, The Grogan Family, West Valley National Bank; NCO: Cannon & Wendt, PSA Dewberry
Quote of the evening: "One woman was facing disconnection of her utilities in the summer of 2009 when AAHC stepped in and paid the bill, saving her family, including several young children, from the sweltering desert heat." (Jill Veillette, president)
Menu: Trapper's favorite pulled pork or chicken; Hawkeye baked beans; Klinger's cole slaw; Father Mulcahy's mac & cheese; Radar's corn bread; Hot Lips' ultimate bread pudding
Attire: Costume
Information: Jill Veillette 623-207-3076
Planning Committee: Jill Veillette, Bob & Molly Stockley, Kevin Elliott, Landis Elliott, Blair McCarthy, Michele Jeffery, Linda Cavanaugh, Betsy Rice & Tiffany Jenkins, Sharon Day, Rick Lieberman & Trisha Smith, Paula Young, Suzanne Bernhardt, Keith Farnham, Larry Atkinson
Board of Directors: Shelley Bade, Linda Cavanaugh, Mark Coronado, Sharon Day, Kevin Elliott, Landis Elliott, Michele Jeffery, Richard Lieberman, Melissa Miller, Betsy Rice, Molly Stockley, Jill Veillette, Terri Wogan, Paula Young, Susan Zook
Blacktie Photos by: Mike Peters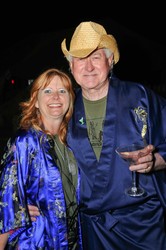 Jill & David Veilette
View all photos
Arizona Assistance in Health Care held its inaugural M*A*S*H fundraiser on Saturday, November 6, 2010 at Westside Complex.
It was a sea of camouflage as guests arrived in fatigues and scrubs, dressed as their favorite character from the the former TV series MASH. Enjoying cocktails from 'Rosie's Bar,' attendees bid on an impressive array of silent auction items and got their grub at the 'Mess Hall,' reminiscent of the popular series.
A live auction included a package for four guests to attend Jimmy Kimmel Live in Los Angeles, a week in Ocean Isle, North Carolina and a Texas Rangers and Kansas City Royals package.
Jodi Light and The Shining Star Band provided entertainment while guests danced the night away.
Arizona Assistance in Health Care is dedicated to helping cancer patients in financial distress with non-medical expenses such as rent, utilities and groceries. The all-volunteer organization provides grants to patients being treated for cancer at any hospital or clinic in the Phoenix metro area.
For more information, visit www.azassistanceinhealthcare.com
See More Past Events