November, 13 2010 - Camp Soaring Eagle Annual Affair
Where: JW Marriott Desert Ridge Resort & Spa
When: November 13, 2010
Time: 6:30 PM
Ticket Prices: Golf Entry Fee per person $350
Golf Foursome $1,200
One ticket - Evening Dinner & Festivities "The Fair-2010" $350
Table of 10 Evening Dinner & Festivities "The Fair-2010" $3,500
Package for two, golf & Evening Dinner & Festivities "The Fair-2010" $1,400
Host(s): Guthy Renker, Max James Family Foundation
Co-Chair(s): David Paltzik and Michael Nealer
Executive Director: Jennifer Perry
Entertainment: Firefly performance
Music: Carnival of Chaos Performance; Dancing to the Tunes of Furious George
Sponsors: Guthy-Renker; Max James Family Foundation; Softmart, LLC; iLinc; Forever Young Foundation; Nan & Hugh Williamson; Arthur J. Gallagher-Risk Management Services; Greenberg Traurig, LLP; Encore Creative; Kay Jewelers; White Tie International; TCC247; The Schwartz Group; Oak Creek Winery; Sedona Woman Wine; Thomas Reprographics; Cliff Castle Casino; Firefly; Allie Ollie; Bank of America, Merrill Lynch
Auctioneer: Letitia Frye
Menu: SALAD: Mixed Greens, cherry tomato, cucumber, dried cranberries, toasted almonds; ENTREE: Braised beef short ribs with honey BBQ sauce, Yukon gold mashed potatoes topped with poached green beans, oven roasted garlic tomatoes surrounding the entree; DESSERT: Duo of blue ribbon pies...apple pie with powdered sugar & pumpkin pie with whipped cream
Attire: Business Casual
Information: Sherry Baker 602 396-5977
Event Coordinator: Sherry Baker
Board of Directors: Max F. James (founder & board chairman), Linda Johansen-James (vice chair), David Paltzik (secretary), Tom Bates (treasurer), Rudy Alexander, Mark Morris, James Liebes, Allan McArtor, Michael Nealer, Jay Nilson, James Powers, Hugh Williamson III
Blacktie Photos by: Erin Vincent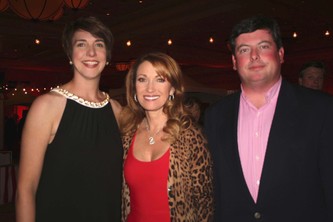 Jennifer Perry (executive director) and husband with Jane Seymour (event host & spokesperson)
View all photos
By Myra Richman...Camp Soaring Eagle held its 'Annual Affair' on Saturday, November 13, 2010, at the J.W. Marriott Desert Ridge Resort & Spa.
Walking into the ballroom was like being on a playground. Friends and supporters of the Sedona-based organization were kids again on the Midway, while playing games and winning prizes during the cocktail hour. Lots of action, lots of good food and the chance to meet the talented Jane Seymour, all added up to a fun-packed evening for everyone.
Camp Soaring Eagle's tag line: 'we PLAY; we LAUGH; we CARE' was evident all throughout the evening, especially while meeting some of the terrific kids who benefit from the programs.
An unbelievable array of live auction items brought in some serious dollars, which will be a big help in continuing the organization's good work.
During 2010, Camp Soaring Eagle will have provided camping experiences to over 350 children and families struggling with critical illnesses via three different program offerings:
Mission: To give kids with serious illnesses and their families a chance to discover the healing power of laughter and the sheer joy of play that sickness has too long denied them by providing camping experiences filled with excitement, challenge and fun in a medically safe setting – free of charge.

Vision: To be recognized and respected as the finest camping program in America for children with serious illnesses by creating an environment of magic and delight, wonder and discovery -
a world without limits that's full of fellowship and friendship, learning and sharing, and pride and achievement.
See More Past Events