November, 20 2005 - Make-A-Wish "25th Silver Anniversary Golf Classic Dinner & Auction"
What: Pre-tournament fun featuring cocktails, dinner, silent and live auction
Where: Four Seasons Resort
When: November 20, 2005
Time: 6:00 PM
Ticket Prices: $100 (tournament play not necessary to attend)
Beneficiary: Make-A-Wish
Master of Ceremonies: Corey La Russo
Gala Chairperson(s): Darryl Janisse, Jim & Suzanne Robb
Committee Members: Darryl Janise (event co-chair), Suzanne & Jim Robb (event co-chairs), Kevin O'Donnell (presenting sponsor liaison), Alex Sklar (silent & live auction chair), Todd Altman, Jennifer Arnold, Mary Janco, Dorene Longfellow, Brad Nazzarini, Denny Pelle, Bruce Sedlak, Jo Sours
President(s): Rebecca Villicana
Sponsors: Presented by: Great Southwest Mortgage; Shea Commercial; Eagle Sponsors: Health Net of Arizona, Morgan Stanley, Wood, Patel & Associates, Inc. Birdie Sponsors: Alliance Bank Tucson, Arizona Central Credit Union, Ben Brooks & Associates, Bill Kalm, Camelot Homes, Chantel Huff, CIGNA Health Care, DMB, DMB Malley Park, DMB Verrado/DC Ranch, Discover Network, Don Parker & Associates, Fastrak Charity Auctions, Ferguson Bath & Kitchen Gallery, Great Southwest Mortgage/Arcadia, John Dean, Kitchell Contractors, Mike Montgomery, Mobility Electronics, Molina Media Group, Navigant Consulting, Opus West, Phoenix Memorial Hospital, Quarles & Brady Streich Lang, Snell and Wilmer Tucson, The Robb Group LLC, Tobey Company, Todd Altman, Todd Stottlemyer, W.M. Grace Development; Hole Sponsors: Blue Bross Blue Shield of Arizona, CB Richard Ellis (2), Mary Alexander & Christopher McNichol, Quarles & Brady Streich Lang
Auctioneer: Bob Ehlert
Quote of the evening: "In lieu of favors, we are putting a smile on the face of one more child," says Rebecca Villicana
Attendance: 340
Special Thanks: Ron Baker, Agent and Celebrity Recruiter; O'Neil Printing, Print Sponsors Wesley's Jewelers, Jewelry Donor
Information: Diane McLaughlin 602.395.9474
Blacktie Photos by: Erika Haskins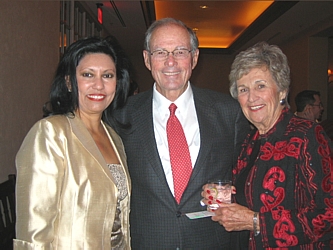 Rebecca Villicana, Webb Todd, Barbara Todd
View all photos
Make-A-Wish "25th Silver Anniversary Golf Classic Dinner & Auction"
By Myra Richman
This year's 25th Silver Anniversary Golf Classic pre-tournament event was held November 20th at the fabulous Four Seasons Resort with the Golf Classic Dinner and Auction. The evening featured cocktails and dinner, as well as silent and live auctions. Monday's golf tournament at Grayhawk Golf Club began with a 10 am shotgun start. A scramble-format tournament, the Classic featured limited golfing spots with a pro or celebrity. The day also included contests and a beautiful day of golf and awards. Included in the festivites were Butch Baird, Alice Cooper, Pete Jordon, Dan Pohl, Joey Snyder III and Todd Stoudamire. Several Arizona companies are supporting the chapter's milestone as 25th anniversary sponsors, with each sponsor contributing $25,000 to the organization. They include: American LifeStar Ambulance & Medical Services, on behalf of the Phoenix Fire Department, Arizona Department of Public Safety, Arizona Public Service, Casino Arizona, Forever Living Products, Gila River Casino, Landry, Creedon & Associates, Phelps Dodge Corporation, St. Joseph's Hospital and Medical Center, Tempe Decorator Center, Thunderbird Charities and U-Haul International, Inc. This year marks the 25th Anniversary of the Make-A-Wish Foundation and its founding chapter, the Make-A-Wish Foundation of Arizona. The Arizona chapter is the only chapter that grants wishes to local Arizona children with life-threatening medical conditions to enrich the human experience with hope, strength and joy. What began in 1980 as the wish of a little Phoenix boy with leukemia has grown to become the world's largest wish-granting organization, serving 72 chapters in the US and its territories. For more information about Make-A-Wish, call 602-395-9474 (x130) or visit www.wishaz.org.
See More Past Events