Captured Event
February 20, 2016 - Boys & Girls Clubs of Greater Scottsdale "Blue Door Ball"
What: Dinner, Youth of the Year Ceremony, Live auction and Paddle raiser
Where: Arizona Biltmore Resort
When: February 20, 2016
Time: 5:30 PM
Mistress of Ceremonies: Allison Mertz (reigning 2015 Youth of the Year")
Co-Chair(s): Janet Caldarelli, Marianne Curran
Committee Members: Jane Blacker, Janet Caldarelli, Marianne Curran, Frank Gorman, Allen Thompson
President(s): Dr. Lisa Hurst
Music: Ryan Sims
Of note: Boys & Girls Clubs of Greater Scottsdale empowers 18,000 youth of all ages and backgrounds to develop qualities needed to reach their full potential as productive, responsible citizens.
Sponsors: PRESENTING: Great American Title Agency, Inc., Tiffany & Bosco, P.A.; PROGRAM: Nationwide Mutual Insurance Co.; CHAMPAGNE & DIAMONDS POST PARTY: Tiffany & Co.; JEWELRY PULL: Kendra Scott; GOLD TABLE: Cox Communications, Snell & Willmer, LLP; SILVER TABLE: Mutual of Omaha Bank;
Quote of the evening: "$19.33 is the amount of positive economic impact generated in the community for every $1 donated"
Menu: SALAD: Floral Green Salad/Roasted Beets, Apple Slaw, Peppered Goat Cheese Tower, Vine Ripe Tomatoes, Sugared Pecans, Raspberry Sauce and Spanish Sherry Vinaigrette; ENTREE: Dual Entree--Braised Short Rib and Prawns, Cheddar Potato Galette, Asparagus, Purple Cauliflower, Onions, Mushrooms, Bacon Bordelaise Sauce; DESSERT: Donuts and Coffee--Cappuccino Semi Freddio, Mini Doughnuts, Chocolate Cream
Attendance: 620
Information: Gail Gilmartin 480-344-5520
Blacktie Photos by: Audra Arbas
The Blacktie Photo Gallery is sponsored by: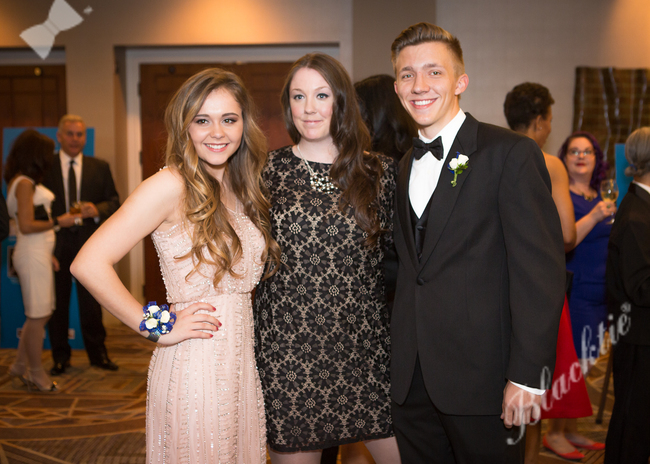 Allison Mertz, Liz Byrne, Arris Austin

By Myra Richman...
The Boys & Girls Clubs of Greater Scottsdale "Blue Door Ball" was held on Saturday, February 20, 2016 at the Arizona Biltmore Resort with a crowd of 620 avid supporters, celebrating the Youth of the Year finalists.
During the hosted cocktail reception, guests could participate in the exclusive Kendra Scott Jewelry Pull, a Blind Wine Draw, a photo booth and viewing of the fabulous live auction items.
All eight candidates for the award have shown superior citizenship and are role models within the greater Scottsdale Boys & Girls Clubs organization.
"The Club has provided me with the tools to look in the mirror and be happy with who I am today, but more importantly, showed me who I want to be tomorrow," says reigning 2015 Youth of the Year Allison Mertz."
Earlier that day, all the girls had the opportunity to have their hair styled and makeup applied by Pucci Salon's specialists in Scottsdale to look their best in honor of their special evening ahead.
The 2016 finalists were: Consuelo Arroyo, Arris Austin, Adrisel Bustamante, Gabriel Eastin, Kari Harper, Jessica (Nanda) Meneses, Jensen Morgan, Elyssa Solana Velarde. They each shared their personal stories of triumph and how the clubs have impacted their lives.
Considering the vast achievements of the honorees, it must have been a daunting task for this year's judges Tina Duffy, Mike Roland, Kathleen Norton, Oliver Ekman-Larsson and Amber Wayne to select a winner.
And...the 2016 Youth of the Year Award went to a fine young man--Arris Austin, a senior at Shadow Mountain High School, who now goes on to compete at the state competition. CONGRATULATIONS, ARRIS!
The Paddle Raiser and Live Auction were a huge hit. The 1961 Convertible Ford Thunderbird brought $31,000, and the trip to Napa brought over $20,000. Among the other big wins were dinner with Larry Fitzgerald and the Phoenix Suns Flyaway trip.
As if that weren't enough, all guests were invited to attend a Post Party, featuring live acoustic music by local favorite Ryan Sims. A very good time was had by all!
For more information, please visit www.bgcs.org.