Captured Event
February 20, 2016 - National Kidney Foundation of Arizona "Dancing with the Stars Arizona 2016"
Where: Westin Kierland Resort
When: February 20, 2016
Time: 6:00 PM
Mistress of Ceremonies: Gina Salazar
Honoree(s): Linda Pope (Guiding Star Award)
Gala Chairperson(s): Leslie Rich and Kathleen Taddie
Committee Members: CO-CHAIRS: Leslie Rich, Kathleen Taddie; IMMEDIATE PAST CHAIRS: Shauna Connelly, Senator Catherine Miranda, Liz Shabaker; CHAIRMEN EMERITUS: Marguerite and Jack Clifford, Glenna Shapiro; COMMITTEE: George Abrams, Dawn Anderson, Char Augenstein, Linda Bower, Shauna Connelly, Erika Dickey, Jo Finks, Emilia Garza-O'Neil, Mary Gaualio, Laurie Goldstein, Dr. Chuck Goldstein, Lisa Leighton, Linda Liguore, Kimberly Perez, Sheryl Rayner, Roxane Smyer, Sherri Tetachuk, Susan Thrasher, Mary Way, Teresie Zmyslinski
Music: The Hamptons
Of note: Celebrity Star Judges: Debbie Avalos, Alice Cooper, Sheryl Cooper, Linda Dean
Sponsors: DIAMOND, EXCLUSIVE PARTNERSHIP: George Adler and Family; EMERALD, PREMIER PARTNERSHIP: Rush Refuse Systems; RUBY: The Donald & Kimberlee Slager Foundation; SAPPHIRE: Blue Cross Blue Shield of Arizona, Betty and Justin Davis, JN Jewels, Linda and Bill Pope, Rose Law Group pc, Leslie and Jeff Rich; PEARL: APS, Arizona Cardinals, Megan and Scott Lavinia, Republic Services
Quote of the evening: "More than 640,000 Arizonans are estimated to be living with some form of CKD--and only 10% are aware of it."
Attendance: 840
Florist: White House Design Studio
Information: Leslie Azurdia 602-845-7915
Board of Directors: John F. Rausch MD (chairman), Pamela A. Paul (treasurer), Michael Krassner (secretary), Robert S. Cohen MD (medical advisory board chairman), Jeffrey D. Neff (CEO), Victoria A Bellomo Esq., Betsy Bombeck, Lynne A. Boschee, James Goodnow, Christopher J. Hogan RPh, Isaac Kahn, Keith Killough, Leonard J. McDonald, Senator Robert Meza, Savas Petrides MD, Adrian Ruiz, Karny Stefan Mpa/CFRE, Kathleen A. Taddie, Charlie Thomas MD, Andre F. Wilson
Blacktie Photos by: www.tinacelle.com
The Blacktie Photo Gallery is sponsored by: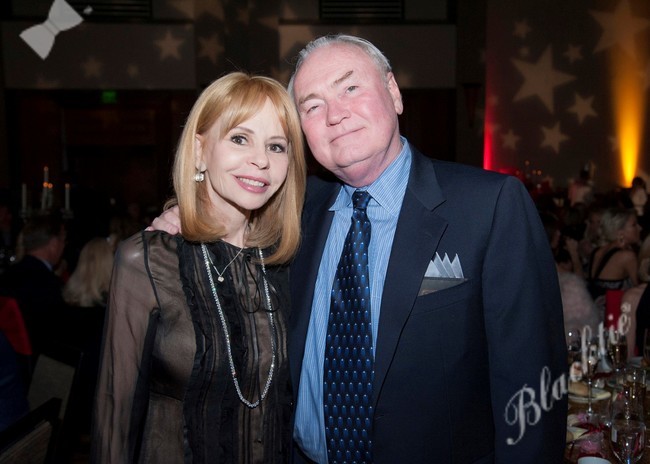 Linda Pope (honoree), Bill Pope

By Myra Richman..
The National Kidney Foundation of Arizona "Dancing with the Stars Arizona: Night of a Thousand Stars" event was held on Saturday, February 20, 2016 at the Westin Kierland Resort.
The 10th anniversary event was a huge success in every possible way, under the direction of co-chairs Leslie Rich and Kathleen Taddie and their competent committees. A VIP-filled experience of 840 attendees included many state senators--all helping to raise just under an unbelievable $1 million.
"I can't think of a more fun and challenging way for local leaders to help raise money for an organization that serves our Arizona communities so directly," says Event Co-Chair, Kathleen Taddie. "The dollars raised through this event have much such an incredible impact in the lives of the kidney patients – we are honored to be a part of its 10th year celebration."
Beginning with a cocktail hour, guests then entered a stunning golden ballroom where the fun continued. A high-spirited event with lots of beautiful people, this year's event team paid special thanks to the lovely, generous Linda Pope with their presentation of the Guiding Star Award.
Coming back for more, two teams of 'Legends Dancers' began the dancing with a competition in honor of Linda Pope's 10 years of vision and dedication to this event.
Shining Star Nominees were: Leslee Allen, Nicole Bidwill and Kimberlee Slager who were recognized for fundraising over $125,000 for the event.
Seventeen brave and caring local celebs took to the floor with their professional partners to compete in several categories.
DWTS AZ 2016 Champions are:
Ladies
People's Choice – Kimberlee Slager
Judges' Choice – Jacqueline Nerguizian
Gold Star – Jennifer Mitchell
Silver Star – Leslee Allen
Gentlemen
People's Choice – Ivan J. Almonte
Judges' Choice – Scott Lavinia
Gold Star –Dr. Remus Repta
Silver Star –Dan Garrison
Legends
Team 1 - People's Choice: Dr. Mytia McNeal, Pat McReynolds, Senator Robert Meza, Carrie Schnepf, Nancy Spetzler and Susie Stevens

Team 2 – Judges' Choice: George Abrams, Julie Adelson, Jamie Andersen, Tiffani Bachus, Linda Gosnell, Heather Novak, and Victor Ostrovsky
Remember to save the date for Prom Redux "A Night in Rio" on May 14, 2016.
For more information, please visit www.azkidney.org.